The Ministry of Motherhood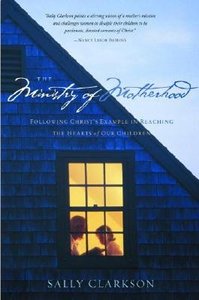 A mother's day is packed with a multitude of tasks that require energy and time: preparing meals, washing clothes, straightening and cleaning the house, and caring for children. These jobs all are necessary and crucially important. But in the dailyness of providing for a child's physical, emotional, and social needs, vital opportunities for spiritual nurture and training can be overlooked.

This doesn't have to be the case. You CAN focus your energy on what matters most. Learn how you can:

Make Life's Mundane and Nitty-Gritty Moments Work for You and Not Against You.

Discover Ways to Make Character-Building a Natural Part of Live.

Teach Your Child in the Same Way Jesus Taught the Disciples.

Pass on Crucial Gifts that Will Serve Your Family for a Lifetime.

Using biblical wisdom and practical teachings, Sally Clarkson shows how you can make a lasting difference in your child's life by following the pattern Christ set with his own disciples-a model that will inspire and equip you to intentionally embrace the rewarding, desperately needed, and immeasurably valuable MINISTRY OF MOTHERHOOD.


- Publisher "Ministry of Motherhoodis the story of one mother who has dared to go beyond the ordinary in loving, leading, and training her children to follow Christ. In this honest and inspiring book, Sally Clarkson paints a stirring vision of a mother's mission and challenges women to disciple their children to be passionate, devoted servants of Christ." Nancy Leigh DeMoss, author and host ofRevive Our Hearts Radio "Biblical, practical, motivational. This inspiring book belongs on every mother's nightstand." Linda Dillow, author ofCalm My Anxious Heartand coauthor ofIntimate Issues "Here we have a book to substantiate that the ministry of motherhood and the Great Commission are not mutually exclusive, but a complement and catalyst toeach other! With an extraordinary blend of humility, challenge, and encouragement, Sally gives an exalted vision to our calling and stewardship as mothers." Debby Thompson, wife and mother with 30 years of ministry leadership, currently with Campus Crusade for Christ, Eastern Europe and Russia "If you feel like a hamster on a wheelyou're running, but you're not getting anywherethenThe Ministry of Motherhoodis for you! Sally Clarkson inspires us to step off that wheel and parent with purpose, not by adding something else to our hectic schedules but by bringing God into everything we do. With down-to-earth, practical examples, sheshows us how we, too, can build disciples as we reach our children's hearts. A very encouraging and easy-to-read book!" Sheila Wray Gregoire, author ofTo Love, Honor, and Vacuum "My thanks to Sally Clarkson for her sacrifice and dedication and the example her life has been to me. Through her writings she is able to share some of what God has put on her heart. This book, along with her others, reveals her to be a shining example of one committed to honor God in all that they do. May you be blessed as you read this book and continue this journey we call motherhood." Lynn VanWingerden, wife, mother of 23 children, grandmother of 9 From the Trade Paperback edition.

- Publisher
You May Also Be Interested In
About "The Ministry of Motherhood"
A mother's day is packed with a multitude of tasks that require energy and time: preparing meals, washing clothes, straightening and cleaning the house, and caring for children. These jobs all are necessary and crucially important. But in the dailyness of providing for a child's physical, emotional, and social needs, vital opportunities for spiritual nurture and training can be overlooked.

This doesn't have to be the case. You CAN focus your energy on what matters most. Learn how you can:

Make Life's Mundane and Nitty-Gritty Moments Work for You and Not Against You.

Discover Ways to Make Character-Building a Natural Part of Live.

Teach Your Child in the Same Way Jesus Taught the Disciples.

Pass on Crucial Gifts that Will Serve Your Family for a Lifetime.

Using biblical wisdom and practical teachings, Sally Clarkson shows how you can make a lasting difference in your child's life by following the pattern Christ set with his own disciples-a model that will inspire and equip you to intentionally embrace the rewarding, desperately needed, and immeasurably valuable MINISTRY OF MOTHERHOOD.

- Publisher

"Ministry of Motherhoodis the story of one mother who has dared to go beyond the ordinary in loving, leading, and training her children to follow Christ. In this honest and inspiring book, Sally Clarkson paints a stirring vision of a mother's mission and challenges women to disciple their children to be passionate, devoted servants of Christ." Nancy Leigh DeMoss, author and host ofRevive Our Hearts Radio "Biblical, practical, motivational. This inspiring book belongs on every mother's nightstand." Linda Dillow, author ofCalm My Anxious Heartand coauthor ofIntimate Issues "Here we have a book to substantiate that the ministry of motherhood and the Great Commission are not mutually exclusive, but a complement and catalyst toeach other! With an extraordinary blend of humility, challenge, and encouragement, Sally gives an exalted vision to our calling and stewardship as mothers." Debby Thompson, wife and mother with 30 years of ministry leadership, currently with Campus Crusade for Christ, Eastern Europe and Russia "If you feel like a hamster on a wheelyou're running, but you're not getting anywherethenThe Ministry of Motherhoodis for you! Sally Clarkson inspires us to step off that wheel and parent with purpose, not by adding something else to our hectic schedules but by bringing God into everything we do. With down-to-earth, practical examples, sheshows us how we, too, can build disciples as we reach our children's hearts. A very encouraging and easy-to-read book!" Sheila Wray Gregoire, author ofTo Love, Honor, and Vacuum "My thanks to Sally Clarkson for her sacrifice and dedication and the example her life has been to me. Through her writings she is able to share some of what God has put on her heart. This book, along with her others, reveals her to be a shining example of one committed to honor God in all that they do. May you be blessed as you read this book and continue this journey we call motherhood." Lynn VanWingerden, wife, mother of 23 children, grandmother of 9 From the Trade Paperback edition.
- Publisher


Meet the Author
Sally Clarkson
Sally Clarkson has worked in vocational ministry for almost thirty years, serving with Campus Crusade for Christ, as well as with women's and singles ministries in the U.S. and overseas. Sally and her husband, Clay, are the cofounders of Whole Heart Ministries, an outreach that encourages and equips Christian parents. She is a widely known speaker and has written "Seasons of a Mother's Heart" and "Educating the WholeHearted Child" (with Clay Clarkson). The Clarksons live with their four children near Nashville, Tennessee. "ý"

Customer Reviews For "The Ministry of Motherhood"
Write Your Own Review
A new refreshing way of seeing motherhood as a ministry
By May,

Nov 29 2017
This is a book that encourages Christian mothers to see motherhood as a ministry rather than a repetitive, mundane job. Sally Clarkson uses Jesus' model of discipleship to help mothers minister to their children. The different gifts she uses in her model are Grace, Inspiration, Faith, Training and Service. She gives real life examples from her life as she ministers to her own four children which have been particularly helpful and insightful. This book has greatly transformed me in my journey of motherhood and I have used this as a reference for my mother's group bible study as well. I would recommend this product for Christian mothers who are keen on ministering to their children in a biblical way. 
{{review.title}}
By {{review.author.name}},

{{review.reviewCreatedDate | date:'MMM dd yyyy'}}

{{reviewdescription}}
{{review.text}}
---