The Miracle (Singing River Series)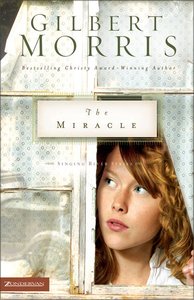 In the midst of the Great Depression, seventeen-year-old Lanie Freeman hopes to keep her family together, become a writer, and find love. But an unexpected health crisis and a devastating town scandal leave the Freeman family reeling. Will their faith uphold them as they struggle to survive? Book Three of the Singing River saga.

- Publisher Raising four strong-willed younger siblings after her mother's death and her father's imprisonment, seventeen-year-old Lanie Freeman never knows what new adventure will roll into view---such as her brother's wild idea to turn the family's old truck into a traveling store. The Freeman Rolling Emporium could provide the financial security Lanie and her family so desperately need, or it could tear them apart. Yet it's only a prelude to other changes. Author Brent Hayden's arrival in Fairhope breathes fresh life into Lanie's dream of becoming a writer. And then the hammer descends ... Lanie's father is diagnosed with cancer, and the faith and unity of her family are stretched to the limit. And on top of this shattering news, a crisis is about to strike that will rock the whole town of Fairhope---and shatter Lanie's dreams of love. The Miracle continues the story of a young woman's valiant struggle to uphold her faith, her family, and her dreams during the height of the Great Depression.

- Publisher
You May Also Be Interested In
About "The Miracle (Singing River Series)"
In the midst of the Great Depression, seventeen-year-old Lanie Freeman hopes to keep her family together, become a writer, and find love. But an unexpected health crisis and a devastating town scandal leave the Freeman family reeling. Will their faith uphold them as they struggle to survive? Book Three of the Singing River saga.
- Publisher

Raising four strong-willed younger siblings after her mother's death and her father's imprisonment, seventeen-year-old Lanie Freeman never knows what new adventure will roll into view---such as her brother's wild idea to turn the family's old truck into a traveling store. The Freeman Rolling Emporium could provide the financial security Lanie and her family so desperately need, or it could tear them apart. Yet it's only a prelude to other changes. Author Brent Hayden's arrival in Fairhope breathes fresh life into Lanie's dream of becoming a writer. And then the hammer descends ... Lanie's father is diagnosed with cancer, and the faith and unity of her family are stretched to the limit. And on top of this shattering news, a crisis is about to strike that will rock the whole town of Fairhope---and shatter Lanie's dreams of love. The Miracle continues the story of a young woman's valiant struggle to uphold her faith, her family, and her dreams during the height of the Great Depression.
- Publisher


Meet the Author
Gilbert Morris
Gilbert Morris is one of todays best-known Christian novelists, specialising in historical fiction. His best-selling works include Edge of Honor (winner of a Christy Award in 2001), Jacobs Way, the House of Winslow series, the Appomattox series, and The Wakefield Saga. He lives in Gulf Shores, Alabama, with his wife, Johnnie. - Publisher.
Other Titles In The "Singing River Series" Series View All