The Misunderstood God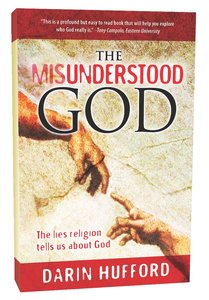 There are so many confusing teachings about God today. Countless contradictions, scams, ploys for money, and fear-based teaching have distorted the true portrait of God the Father. THE MISUNDERSTOOD GOD tells the truth about who the Creator is. This book analyzes what religion says about God's heart and personality and measures it up to what God calls Himself: Love. Actually finding God, Darrin Hufford states, is easier than anyone imagined. He is not locked in a monastery high in the mountains. He's not sitting in church hoping people will show up on Sunday morning. He's not on a travelling road show with the latest super-spiritual faith healer. Believe it or not, He's not even in the Bible. Finding God is as easy as loving the people He has made.THE MISUNDERSTOOD GOD simplifies a generation's tangled perceptions of God by taking a journey through the sixteen aspects of love described in one of the most well-known Bible passages in the world: 1 Corinthians 13, also known as "the love chapter." So many Christians have been bombarded with confusing teachings and doctrines that their understanding of God resembles a tightly tangled ball of Christmas tree lights. This book takes that twisted mess and replaces it with one soft, warm light of truth that anyone can embrace: God is love.



- Publisher
You May Also Be Interested In
About "The Misunderstood God"
There are so many confusing teachings about God today. Countless contradictions, scams, ploys for money, and fear-based teaching have distorted the true portrait of God the Father. THE MISUNDERSTOOD GOD tells the truth about who the Creator is. This book analyzes what religion says about God's heart and personality and measures it up to what God calls Himself: Love. Actually finding God, Darrin Hufford states, is easier than anyone imagined. He is not locked in a monastery high in the mountains. He's not sitting in church hoping people will show up on Sunday morning. He's not on a travelling road show with the latest super-spiritual faith healer. Believe it or not, He's not even in the Bible. Finding God is as easy as loving the people He has made.THE MISUNDERSTOOD GOD simplifies a generation's tangled perceptions of God by taking a journey through the sixteen aspects of love described in one of the most well-known Bible passages in the world: 1 Corinthians 13, also known as "the love chapter." So many Christians have been bombarded with confusing teachings and doctrines that their understanding of God resembles a tightly tangled ball of Christmas tree lights. This book takes that twisted mess and replaces it with one soft, warm light of truth that anyone can embrace: God is love.


- Publisher


Meet the Author
Darin Hufford
Darin Hufford is the host of theInto the Wildpodcast and the founder and president of the Free Believers Network. He travels and speaks throughout the world on knowing the heart of God. Currently, Darin lives in Phoenix, Arizona, with his wife, Angie, and their five children.
Customer Reviews For "The Misunderstood God"
Write Your Own Review
Do you wonder what God thinks of you?
By Carol Dryden,

Feb 18 2010
God is not waiting for you to get your act together. This book is a must read. Your faith will never be shaken again. You will never wonder, ever, what the Father really thinks of you. This book is Life Changing. Since first meeting Darin Hufford and listening to his teachings, my life has been dramatically changed. And I'll never go back to the long faced religion that waits on god to shame me in to submission. Because that god does not exist. 
Read this book. You will know God's heart in a way you never thought possible. 
{{review.title}}
By {{review.author.name}},

{{review.reviewCreatedDate | date:'MMM dd yyyy'}}

{{reviewdescription}}
{{review.text}}
---