The Most Misused Verses in the Bible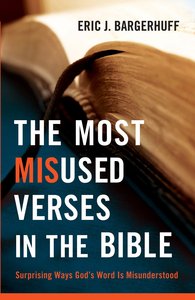 Respected pastor and Biblical scholar exposes 20 verses that are most commonly taken out of context and explains why it matters.High-Interest Guide Sure to Spark Curiosity and Conversation

A surprising number of well-known Bible verses are commonly misused and misunderstood. Whether intentionally or not, people take important verses out of context, and pastor and Bible scholar Eric J. Bargerhuff has seen the effects: confusion, faulty decisions, sin being dismissed, and more. With a deft touch, he helps readers understand and apply sound principles of interpretation and application of twenty familiar verses. This concise high-interest approach appeals to the curious as well as readers concerned about incorrect theology.Are you sure you know what your favorite Bible verses mean?

"I can do all things through Christ who strengthens me."--Philippians 4:13
"'For I know the plans I have for you,' declares the Lord, 'plans to prosper you and not to harm you, plans to give you hope and a future.'"--Jeremiah 29:11
"And we know that for those who love God all things work together for good."--Romans 8:28

These and a surprising number of well-known Scripture passages are commonly misused or misunderstood. Even well-intentioned Christians take important verses out of context, and pastor Eric J. Bargerhuff has seen the effects: confusion, poor decisions, and a distorted view of God's Word.

In this concise yet thorough book, Bargerhuff helps all of us understand what these verses meant when they were written so we can apply them accurately today. Providing fascinating historical and scriptural insights, he shows how to read God's promises and instructions in context and appreciate even more the Bible's eternal message.Eric J. Bargerhuff, PhD, has served in pastoral ministry in churches in Ohio, Illinois, and Florida. He received his doctorate in biblical and systematic theology from Trinity Evangelical Divinity School. His passion is to write systematic and practical theology for the purposes of spiritual growth and reform in the church. He is a member of the Society for the Advancement of Ecclesial Theology (SAET) and the Evangelical Theological Society (ETS).

His first publication, Love that Rescues: God's Fatherly Love in the Practice of Church Discipline, explores the grace and fatherly love of God that should be embodied in a church's efforts to restore a brother or sister in Christ who has gone astray.

Eric and his family presently live in Palm Harbor, Florida.
You May Also Be Interested In
About "The Most Misused Verses in the Bible"
Respected pastor and Biblical scholar exposes 20 verses that are most commonly taken out of context and explains why it matters.High-Interest Guide Sure to Spark Curiosity and Conversation

A surprising number of well-known Bible verses are commonly misused and misunderstood. Whether intentionally or not, people take important verses out of context, and pastor and Bible scholar Eric J. Bargerhuff has seen the effects: confusion, faulty decisions, sin being dismissed, and more. With a deft touch, he helps readers understand and apply sound principles of interpretation and application of twenty familiar verses. This concise high-interest approach appeals to the curious as well as readers concerned about incorrect theology.Are you sure you know what your favorite Bible verses mean?

"I can do all things through Christ who strengthens me."--Philippians 4:13
"'For I know the plans I have for you,' declares the Lord, 'plans to prosper you and not to harm you, plans to give you hope and a future.'"--Jeremiah 29:11
"And we know that for those who love God all things work together for good."--Romans 8:28

These and a surprising number of well-known Scripture passages are commonly misused or misunderstood. Even well-intentioned Christians take important verses out of context, and pastor Eric J. Bargerhuff has seen the effects: confusion, poor decisions, and a distorted view of God's Word.

In this concise yet thorough book, Bargerhuff helps all of us understand what these verses meant when they were written so we can apply them accurately today. Providing fascinating historical and scriptural insights, he shows how to read God's promises and instructions in context and appreciate even more the Bible's eternal message.Eric J. Bargerhuff, PhD, has served in pastoral ministry in churches in Ohio, Illinois, and Florida. He received his doctorate in biblical and systematic theology from Trinity Evangelical Divinity School. His passion is to write systematic and practical theology for the purposes of spiritual growth and reform in the church. He is a member of the Society for the Advancement of Ecclesial Theology (SAET) and the Evangelical Theological Society (ETS).

His first publication, Love that Rescues: God's Fatherly Love in the Practice of Church Discipline, explores the grace and fatherly love of God that should be embodied in a church's efforts to restore a brother or sister in Christ who has gone astray.

Eric and his family presently live in Palm Harbor, Florida.
- Koorong

High-Interest Guide Sure to Spark Curiosity and Conversation

A surprising number of well-known Bible verses are commonly misused and misunderstood. Whether intentionally or not, people take important verses out of context, and pastor and Bible scholar Eric J. Bargerhuff has seen the effects: confusion, faulty decisions, sin being dismissed, and more. With a deft touch, he helps readers understand and apply sound principles of interpretation and application of twenty familiar verses. This concise high-interest approach appeals to the curious as well as readers concerned about incorrect theology.
- Publisher