The Multi-Site Church Revolution (Leadership Network Innovation Series)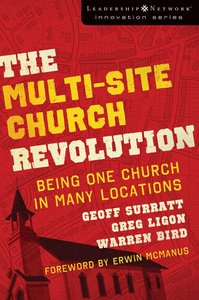 This book captures the story of a widespread movement of churches that are expanding their ministries to include multiple formats, venues, and locations, using dozens of in-the-trenches examples, identifying the primary reasons churches succeed as well as how they overcome common snags on the route to 'one church---many congregations.'
You May Also Be Interested In
About "The Multi-Site Church Revolution (Leadership Network Innovation Series)"
This book captures the story of a widespread movement of churches that are expanding their ministries to include multiple formats, venues, and locations, using dozens of in-the-trenches examples, identifying the primary reasons churches succeed as well as how they overcome common snags on the route to 'one church---many congregations.'
- Koorong

Fueled by a desire to reach people for Christ, a revolution is underway. Churches are growing beyond the limitations of a single service in one building. Expanding the traditional model, they are embracing the concept of one church with more than one site: multiple congregations sharing a common vision, budget, leadership, and board. Drawing from the examples of churches nationwide, The Multi-Site Church Revolution shows what healthy multi-site churches look like and what motivates congregations to make the change. Discover how your church can: * cast a vision for change * ensure a successful DNA transfer (vision and core values) to its new site * develop new leaders * fund new sites * adapt to structure and staffing change * use technology to support your worship services you'll identify the reasons churches succeed and how they overcome common snags. The Multi-Site Church Revolution offers guidance, insights, and specific action steps as well as appendixes with practical leadership resources and self-diagnostic tools. ?I wholeheartedly recommend this book for any pastor or church leader who needs to know the pertinent issues, tested solutions, and real examples of multi-site strategies that are currently being deployed around the world.? ---Ed Young, senior pastor, Fellowship Church ?The authors have done their homework. They have firsthand knowledge of the successes and failures of this movement, having been networking with and facilitating dialogue among churches across the country for years.? ---Max Lucado, senior minister, Oak Hills Church ?Look no further than this book to propel your ministry to Ephesians 3:20 proportions: exceeding abundantly above all that you could ever ask or think!? ---Randy and Paula White, senior pastors, Without Walls International Church This book is part of the Leadership Network Innovation Series.
- Publisher


Meet the Authors
Geoff Surratt
Geoff Surratt is on staff of Seacoast Church, a successful and high-visibility multi-site church, and is part-time staff with Leadership Network. Geoff has twenty-four years of ministry experience in churches. Along with his wife and two children, he lives in Charleston, SC. He is coauthor of The Multi-Site Church Revolution and Ten Stupid Things that Keep Churches from Growing.
Greg Ligon
Greg Ligon serves as Director of Multi-site Church Leadership Communities for Leadership Network. A capable writer, he was a part of the writing team for Broadman and Holman's Shepherd's Notes lay commentary series and is also Director of Publishing for Leadership Network. He and his wife have two children and live in Dallas, TX.
Warren Bird
Warren Bird (Ph.D., Fordham University) has collaboratively authored nineteen books (including two 100,000 bestsellers, one Gold Medallion winner, and one runner up for the Gold Medallion), served as associate pastor for eleven years and senior pastor for four years, taught as regularly contributing faculty at Alliance Theological Seminary for twelve years, and served on the senior leadership team of three organizations that provide training to pastors - Charles E. Fuller Institute, Canadian Centre for Leadership Development, and the Beeson Institute for Advanced Church Leadership.
Erwin Raphael Mcmanus (Fwd)
Erwin Raphael McManus is a husband, father, writer, futurist, activist, artist and spiritual and cultural leader. He also serves as the lead pastor and Cultural Architect of Mosaic in Los Angeles. Known around the world for its spiritual creativity and cosmopolitan diversity, Mosaic is a community of followers of Jesus Christ committed to live by faith, to be known by love, and to be a voice of hope. Since the early 90's, Erwin has led Mosaic in a pioneering enterprise whose primary focus is to serve the post-modern, post-Western, and post-Christian world.Erwin is the catalyst behind Awaken, a collaboration of dreamers committed to creating environments that expand imagination and unleash creativity. Convinced that the world is changed by dreamers and visionaries, Awaken serves the purpose of history by maximizing the divine potential in every human being. He is also the author of An Unstoppable Force, a Gold Medallion Award finalist; Chasing Daylight; Uprising: A Revolution of the Soul (also companion The Uprising Experience life storyboard); The Barbarian Way; Stand Against the Wind and Soul Cravings.
Other Titles In The "Leadership Network Innovation Series" Series View All