The Music Architect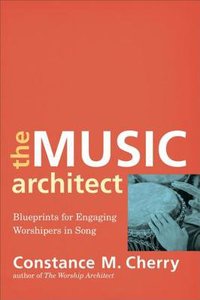 Guidance for Leaders Seeking a Richer Way to Employ Worship Music

Worship expert Constance Cherry offers comprehensive guidance to Christian leaders seeking a deeper, richer way to employ worship music in engaging ways for twenty-first-century worshipers. Following Cherry's successful book The Worship Architect, this work helps Christian leaders think theologically and act pastorally about worship music in their churches. It addresses larger issues beyond the surface struggles of musical styles and provides tools to critically evaluate worship songs. The book is applicable to all Christian traditions and worship styles and is well suited to both the classroom and the local church. Each chapter concludes with suggested practical exercises, recommended reading, and basic vocabulary terms.

- Publisher
You May Also Be Interested In
About "The Music Architect"
Guidance for Leaders Seeking a Richer Way to Employ Worship Music

Worship expert Constance Cherry offers comprehensive guidance to Christian leaders seeking a deeper, richer way to employ worship music in engaging ways for twenty-first-century worshipers. Following Cherry's successful book The Worship Architect, this work helps Christian leaders think theologically and act pastorally about worship music in their churches. It addresses larger issues beyond the surface struggles of musical styles and provides tools to critically evaluate worship songs. The book is applicable to all Christian traditions and worship styles and is well suited to both the classroom and the local church. Each chapter concludes with suggested practical exercises, recommended reading, and basic vocabulary terms.
- Publisher


Meet the Author
Constance M Cherry
Constance M. Cherry (D.Min., Northern Baptist Theological Seminary) is associate professor of worship and Christian ministries at Indiana Wesleyan University in Marion, Indiana. She formerly taught at Winebrenner Theological Seminary and is a permanent part-time professor for the Robert E. Webber Institute for Worship Studies. She has served local churches as a minister of music/worship and as a United Methodist pastor.
Table Of Contents
guidance For Leaders Seeking A Richer Way To Employ Worship Music

Worship Expert Constance Cherry Offers Comprehensive Guidance To Christian Leaders Seeking A Deeper, Richer Way To Employ Worship Music In Engaging Ways For Twenty-first-century Worshipers. Following Cherry's Successful Book the Worship Architect, This Work Helps Christian Leaders Think Theologically And Act Pastorally About Worship Music In Their Churches. It Addresses Larger Issues Beyond The Surface Struggles Of Musical Styles And Provides Tools To Critically Evaluate Worship Songs. The Book Is Applicable To All Christian Traditions And Worship Styles And Is Well Suited To Both The Classroom And The Local Church. Each Chapter Concludes With Suggested Practical Exercises, Recommended Reading, And Basic Vocabulary Terms.