The Mystery of God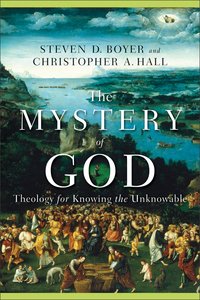 $23.99
$19.19
You Save: $4.80 (20%)
Paperback
How can I know God if he is incomprehensible? Is it possible to know God in a way that takes seriously the fact that he is beyond knowledge? Steven Boyer and Christopher Hall argue that the "mystery of God" has a rightful place in theological discourse. They contend that considering divine incomprehensibility invites reverence and humility in our thinking and living as Christians and clarifies a variety of theological topics.

The authors begin by investigating the biblical, historical, and practical foundations for understanding the mystery of God. They then spell out its implications for theological issues and practices such as the incarnation, salvation, and prayer, rooting knowledge of God in a concrete life of faith. Evangelical yet ecumenical, this book will appeal to theology students, pastors, church leaders, and all who want intellectual and practical guidance for knowing the unknowable God.

- Publisher
You May Also Be Interested In
About "The Mystery of God"
How can I know God if he is incomprehensible? Is it possible to know God in a way that takes seriously the fact that he is beyond knowledge? Steven Boyer and Christopher Hall argue that the "mystery of God" has a rightful place in theological discourse. They contend that considering divine incomprehensibility invites reverence and humility in our thinking and living as Christians and clarifies a variety of theological topics.

The authors begin by investigating the biblical, historical, and practical foundations for understanding the mystery of God. They then spell out its implications for theological issues and practices such as the incarnation, salvation, and prayer, rooting knowledge of God in a concrete life of faith. Evangelical yet ecumenical, this book will appeal to theology students, pastors, church leaders, and all who want intellectual and practical guidance for knowing the unknowable God.
- Publisher


Meet the Authors
Christopher A Hall
Christopher A. Hall (Ph.D., Drew University) is Chancellor and Professor of Biblical and Theological Studies at Eastern University. His publications include Reading Scripture with the Church Fathers (InterVarsity Press, 1998); Learning Theology with the Church Fathers (InterVarsity Press, 2002); The Trinity (Eerdmans, 2002); Does God Have A Future (Baker, 2003), and is the editor of Ancient & Postmodern Christianity: Paleo-Orthodoxy in the 21st Century: Essays in Honor of Thomas C. Oden with Kenneth Tanner and the Ancient Christian Commentary Series (InterVarsity Press) to which he has contributed the award winning volume on Mark.
Most recently he has authored Worshiping with the Church Fathers (InterVarsity Press) and edited Homilies on Numbers (InterVarsity Press)
Koorong -Editorial Review.
Table Of Contents
Introduction
part 1: The Sun
1. The Meaning Of Mystery
2. The Necessity Of Mystery
3. The History Of Mystery
4. The Knowledge Of Mystery
part 2: The Landscape
5. The Mystery Of The Trinity
6. The Incarnation
7. Mystery And Salvation
8. Mystery And The Life Of Prayer
9. Mystery And World Religions
epilogue: Seeking, Finding, And Seeking
indexes