The Nature of Things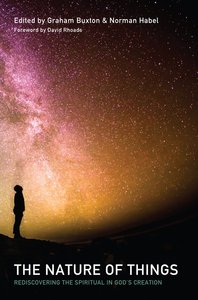 In 2015 a conference on "Rediscovering the Spiritual in God's Creation" was held at the Serafino winery complex in the McLaren Vale region of South Australia. The aim of the conference was not to seek consensus but to survey the landscape with a view to intentional responsible action in caring for God's creation. Delegates were challenged to recognize their own worldviews and to widen their horizons to encompass the enormity of the transcendence and immanence of God's presence in all creation. A group of leading international scholars and experts in the fields of science, ecology, theology, and ethics participated in a multidisciplinary conversation on the spiritual in creation, with the aim of discovering fresh horizons with regard to creation care, liturgy, justice, and discipleship within the Christian community. The chapters in this volume reflect the diversity of perspectives summarized in The Serafino Declaration, which was crafted towards the end of the conference. This declaration (which opens the volume) outlines a range of views relating to the presence of the spiritual in creation, views that are both traditional and radical. This volume highlights the current concern over ecological destruction and finds sources of inspiration in the deepest roots of our traditions and forms of spirituality to sustain efforts towards custodianship of the land and care for God's creation.Contributors:David Rhoads Paul Santmire Denis EdwardsBob White Heather Eaton Ernst Conradie Vicky Balabanski Celia Deane-Drummond Mark Worthing Emily ColganDianne Rayson Anne Gardner Mark LiederbachPatricia FoxAnne Elvey Mick Pope

- Publisher
You May Also Be Interested In
About "The Nature of Things"
In 2015 a conference on "Rediscovering the Spiritual in God's Creation" was held at the Serafino winery complex in the McLaren Vale region of South Australia. The aim of the conference was not to seek consensus but to survey the landscape with a view to intentional responsible action in caring for God's creation. Delegates were challenged to recognize their own worldviews and to widen their horizons to encompass the enormity of the transcendence and immanence of God's presence in all creation. A group of leading international scholars and experts in the fields of science, ecology, theology, and ethics participated in a multidisciplinary conversation on the spiritual in creation, with the aim of discovering fresh horizons with regard to creation care, liturgy, justice, and discipleship within the Christian community. The chapters in this volume reflect the diversity of perspectives summarized in The Serafino Declaration, which was crafted towards the end of the conference. This declaration (which opens the volume) outlines a range of views relating to the presence of the spiritual in creation, views that are both traditional and radical. This volume highlights the current concern over ecological destruction and finds sources of inspiration in the deepest roots of our traditions and forms of spirituality to sustain efforts towards custodianship of the land and care for God's creation.Contributors:David Rhoads Paul Santmire Denis EdwardsBob White Heather Eaton Ernst Conradie Vicky Balabanski Celia Deane-Drummond Mark Worthing Emily ColganDianne Rayson Anne Gardner Mark LiederbachPatricia FoxAnne Elvey Mick Pope
- Publisher


Meet the Authors
Norman C Habel (Ed)
Norman C. Habel, Ph.D. (1964), Concordia Seminary, is Professorial Fellow at Flinders University of South Australia. He is editor of the five-volume series, The Earth Bible (Pilgrim Press). Peter Trudinger, Ph.D. (2002), in Hebrew Bible (Psalms), Emory University, is Senior Lecturer in Biblical Studies at Flinders University, and the author of The Psalms of the Tamid Service: A Liturgical Text from the Second Temple (Brill).
David Rhoads (Ed)
David Rhoads is Professor of New Testament at the Lutheran School of Theology, Chicago.