The New Christian Zionism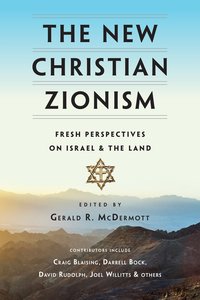 :Can a theological case be made from Scripture that Israel still has a claim to the Promised Land? Christian Zionism is often seen as the offspring of premillennial dispensationalism. But the historical roots of Christian Zionism came long before the rise of the Plymouth Brethren and John Nelson Darby. In fact, the authors of The New Christian Zionism contend that the biblical and theological connections between covenant and land are nearly as close in the New Testament as in the Old. Written with academic rigor by experts in the field, this book proposes that Zionism can be defended historically, theologically, politically and morally. While this does not sanctify every policy and practice of the current Israeli government, the authors include recommendations for how twenty-first-century Christian theology should rethink its understanding of both ancient and contemporary Israel, the Bible and Christian theology more broadly. This provocative volume proposes a place for Christian Zionism in an integrated biblical vision.

- Publisher
You May Also Be Interested In
About "The New Christian Zionism"
:Can a theological case be made from Scripture that Israel still has a claim to the Promised Land? Christian Zionism is often seen as the offspring of premillennial dispensationalism. But the historical roots of Christian Zionism came long before the rise of the Plymouth Brethren and John Nelson Darby. In fact, the authors of The New Christian Zionism contend that the biblical and theological connections between covenant and land are nearly as close in the New Testament as in the Old. Written with academic rigor by experts in the field, this book proposes that Zionism can be defended historically, theologically, politically and morally. While this does not sanctify every policy and practice of the current Israeli government, the authors include recommendations for how twenty-first-century Christian theology should rethink its understanding of both ancient and contemporary Israel, the Bible and Christian theology more broadly. This provocative volume proposes a place for Christian Zionism in an integrated biblical vision.
- Publisher


Meet the Author
Gerald R Mcdermott
Gerald R. McDermott (Ph.D., University of Iowa) is professor of religion and philosophy at Roanoke College in Salem, Virginia. His books include Can Evangelicals Learn from World Religions?; God's Rivals, Cancer: A Medical and Spiritual Guide for Patients and Their Loved Ones (with William A. Fintel, M.D.; Baker); One Holy and Happy Society: The Public Theology of Jonathan Edwards (Penn State Press); Jonathan Edwards Confronts the Gods: Christian Theology; Enlightenment Religion and Non-Christian Faiths (Oxford University Press); Seeing God: Twelve Reliable Signs of True Spirituality (republished by Regent in 2000) and Claiming Christ: A Mormon-Evangelical Debate (Brazos). He is also a Teaching Pastor at St. John Lutheran Church.
Table Of Contents
:introduction: What Is The New Christian Zionism? (gerald Mcdermott)

part 1: Theology And History

1. A History Of Supersessionism: Getting The Big Story Wrong (gerald Mcdermott)2. A History Of Christian Zionism: Is Christian Zionism Rooted Primarily In Premillennial Dispensationalism? (gerald Mcdermott)

part 2: Theology And The Bible

3. Biblical Hermeneutics: How Are We To Interpret The Relation Between Tanak And The New Testament On This Question? (craig Blaising)4. Zionism In The Gospel Of Matthew: Do The People Of Israel And The Land Of Israel Persist As Abiding Concerns For Matthew? (joel Willitts)5. Zionism In Luke-acts: Do The People Of Israel And The Land Of Israel Persist As Abiding Concerns In Luke's Two Volumes? (mark Kinzer)6. Zionism In Pauline Literature: Does Paul Eliminate Particularity For Israel And The Land In His Portrayal Of Salvation Available For All The World? (david Rudolph)

part 3: Theology And Its Implications

7. Theology And The Churches: Mainline Protestant Zionism And Anti-zionism (mark Tooley)8. Theology And Politics: Reinhold Niebuhr's Christian Zionism (robert Benne)9. Theology And Law: Does The Modern State Of Israel Violate Its Call To Justice In The Covenant By Its Relation To International Law? (robert Nicholson)10. Theology And Morality: Is Modern Israel Faithful To The Moral Demands Of The Covenant In Its Treatment Of Minorities? (shadi Khalloul)

part 4: Theology And The Future

11. How Should The New Christian Zionism Proceed? (darrell Bock)12. Implications And Propositions (gerald Mcdermott)

List Of Contributorsindex