The New Unger's Bible Handbook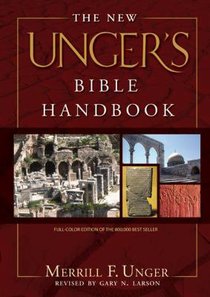 $

55.00

$

44.00
You Save: $11.00 (20%)
Hardback
Need for Product: - People within in the church today are not as knowledgeable about the Scriptures as they once were; tools are needed to help Christians learn more about the Word of God- Gives a complete study on all 66 books of the Bible, with an introduction that includes historical and archaeological background, outline and discussion of each book

- Publisher 720 Pages

- Publisher A rich treasury of Bible information! The New Unger's Bible Handbook remains the one book indispensable to quality study-chock-full of color illustrations, photographs, maps, diagrams, charts and more. Now with updated graphics, this classic is sure to be a favorite among the next generation of Bible scholars.

- Publisher
You May Also Be Interested In
About "The New Unger's Bible Handbook"
Need for Product: - People within in the church today are not as knowledgeable about the Scriptures as they once were; tools are needed to help Christians learn more about the Word of God- Gives a complete study on all 66 books of the Bible, with an introduction that includes historical and archaeological background, outline and discussion of each book
- Publisher

720 Pages
- Publisher

A rich treasury of Bible information! The New Unger's Bible Handbook remains the one book indispensable to quality study-chock-full of color illustrations, photographs, maps, diagrams, charts and more. Now with updated graphics, this classic is sure to be a favorite among the next generation of Bible scholars.
- Publisher


Meet the Author
Merrill F Unger
Merrill F. Unger (1909-1981) nacio en Baltimore, Maryland, Estados Unidos, y se graduo con honores de la Universidad Johns Hopkins. Luego de obtener los titulos de maestria y doctorado en Teologia en el Seminario Teologico de Dallas, Unger obtuvo el doctorado en Arquelogia Biblica y Semitica del Seminario Oriental de la Escuela de Estudios Superiores de la Facultad de Filosofia de Johns Hopkins. Fue pastor antes de comenzar su carrera didactica en Gordon Divinity School.
Table Of Contents
introduction
the Bible And Archaeology
old Testament
genesis
exodus
leviticus
numbers
deuteronomy 
joshua
judges
ruth
i Samuel
2 Samuel
i Kings
2 Kings
i Chronicles
2 Chronicles
ezra
nehemiah
esther
job
psalms
proverbs
ecclesiastes
song Of Solomon
the Prophets
isaiah
jeremiah
lamentations
ezekiel
daniel
the Minor Prophets
hosea
joel
amos
obadiah
jonah
micah
nahum
habakkuk
zephaniah
haggai
zechariah
malachi
between The Testaments
new Testament
the Four Gospels
matthew
mark
luke
john
acts
the Espistles Of Paul
romans
i Corinthians
2 Corinthians
galatians
ephesians
philippians
colossians
i Thessalonians
2 Thessalonians
i Timothy
2 Timothy
titus
philemon
the Jewish-christian Epistles
hebrews
james
i Peter
2 Peter
i John
2 John
3 John
jude
revelation
how The Bible Came To Us
bible Statistics
outline Of Church History
early Church
medieval Church
modern Church
principle Religions Of The World
index
some Ways Into Your Bible