The Official Chuck Norris Fact Book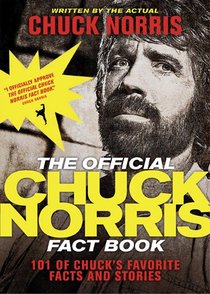 The Official Chuck Norris Fact Book ReviewsOctober 15, 2009 Honest Book Reviews "Suzi Weston" (New York, NY) - See all my reviewsI received a prerelease copy of The Official Chuck Norris Fact Book for professional review. I wasn't sure what to expect, but after just a few minutes I was absolutely captivated, laughing hysterically, thoroughly entertained, genuinely inspired, and even educated by reading through various entries in the 101 Norris selected. It is the most reasonably priced 320-page book that I've seen in a long time (under10 through Amazon). According to Norris, he was asked repeatedly over the past few years by various publishers to write about his favorite Chuck Norris Facts, those hyperbolic and mythical sayings about the nature of Chuck Norris that have made him an Internet and superhero sensation. (I'm certain picking 101 favorites was not easy for him, being that there are literally tens of thousands.) Under each of Chuck's 101 favorite Facts in the book is a related short story (titled "Let's Be Honest"), a related quote from contemporaries to classic figures (titled "They Said It"), and a final section summarizing a life principle that is based upon what he just wrote (titled "Chuck's Code"). The 101 Chuck Norris Facts include some I've heard and many, many I have not. They all are bellyaching funny! Examples of a few are: "If you work in an office with Chuck Norris, don't ask him for his three-hole punch"; "Chuck Norris was born in a cabin that he built with his bare hands"; "Sweating bullets is literally what happens when Chuck Norris gets too hot"; and "Chuck Norris can gargle peanut butter and blow bubbles with beef jerky." A phenomenal artistic touch to this book is the inclusion of Chuck Norris caricature sketches accompanying each of his 101 favorite Facts. They include Chuck wrestling with a grizzly bear (four times his size), Chuck roundhouse kicking a stick of dynamite, Chuck hanging from a ladder dropping from a helicopter, etc. As hilarious as the Chuck Norris Facts are, I found the most engaging part of the book is the diversity of stories in the 101 entries, from Norris's martial arts, movie, and television careers to his encounters with notables all around the world. They include intimate details of his personal life, including family, love, marriage, faith, and even his daily workout plan and diet. He discusses how he was able to overcome the effects of a violent alcoholic father, abject poverty, and the many hurdles on his way to world karate champion and award-winning actor. Particularly moving are his tributes to his mother and brother Wieland, who died in 1970 in the Vietnam War. But he also gives insights into his relationships with friends like Bruce Lee, Elvis Presley, and many other movie stars, sports figures, and cultural icons. Lastly, many entries are inspirational and educational on a host of issues, from our Constitution to acting to being an overachiever. In almost every entry, Chuck encourages his readers to strive to be their best-physically, mentally, and spiritually. And he uses his five core values (fight, family, faith, fitness, and freedom) to motivate them. If you like quotes, you'll love Norris's collection of quotes ("They Said It"). It is a rich group of sayings from scientists, revolutionaries, and cultural heroes of the past couple of centuries. Quoted are classics like Isaac Newton, Thomas Jefferson, C. S. Lewis, and Mother Teresa, and contemporaries li

- Publisher Hundreds of thousands of humorous Chuck Norris facts have been published, traveled around the globe via the Internet, and gained an international audience of millions. Chuck Norris facts are a quirky, extremely popular Internet phenomenon that has entertained fans from all over the globe. In the last several years, Chuck Norris has been asked repeatedly from the heartland of America to the battlefields of Iraq and Afghanistan, "Which facts are your favorites?" For the first time ever, in "The Official Chuck Norris Fact Book, " Chuck gives readers not only his favorite "facts," roundhouse-kicked by the man himself, but also the stories behind the facts and the code by which Chuck lives his life. Fans from every corner of the globe will enjoy both the fanciful and inspirational from one of the world's great action heroes. This book makes a perfect gift.

- Publisher
You May Also Be Interested In
About "The Official Chuck Norris Fact Book"
The Official Chuck Norris Fact Book ReviewsOctober 15, 2009 Honest Book Reviews "Suzi Weston" (New York, NY) - See all my reviewsI received a prerelease copy of The Official Chuck Norris Fact Book for professional review. I wasn't sure what to expect, but after just a few minutes I was absolutely captivated, laughing hysterically, thoroughly entertained, genuinely inspired, and even educated by reading through various entries in the 101 Norris selected. It is the most reasonably priced 320-page book that I've seen in a long time (under10 through Amazon). According to Norris, he was asked repeatedly over the past few years by various publishers to write about his favorite Chuck Norris Facts, those hyperbolic and mythical sayings about the nature of Chuck Norris that have made him an Internet and superhero sensation. (I'm certain picking 101 favorites was not easy for him, being that there are literally tens of thousands.) Under each of Chuck's 101 favorite Facts in the book is a related short story (titled "Let's Be Honest"), a related quote from contemporaries to classic figures (titled "They Said It"), and a final section summarizing a life principle that is based upon what he just wrote (titled "Chuck's Code"). The 101 Chuck Norris Facts include some I've heard and many, many I have not. They all are bellyaching funny! Examples of a few are: "If you work in an office with Chuck Norris, don't ask him for his three-hole punch"; "Chuck Norris was born in a cabin that he built with his bare hands"; "Sweating bullets is literally what happens when Chuck Norris gets too hot"; and "Chuck Norris can gargle peanut butter and blow bubbles with beef jerky." A phenomenal artistic touch to this book is the inclusion of Chuck Norris caricature sketches accompanying each of his 101 favorite Facts. They include Chuck wrestling with a grizzly bear (four times his size), Chuck roundhouse kicking a stick of dynamite, Chuck hanging from a ladder dropping from a helicopter, etc. As hilarious as the Chuck Norris Facts are, I found the most engaging part of the book is the diversity of stories in the 101 entries, from Norris's martial arts, movie, and television careers to his encounters with notables all around the world. They include intimate details of his personal life, including family, love, marriage, faith, and even his daily workout plan and diet. He discusses how he was able to overcome the effects of a violent alcoholic father, abject poverty, and the many hurdles on his way to world karate champion and award-winning actor. Particularly moving are his tributes to his mother and brother Wieland, who died in 1970 in the Vietnam War. But he also gives insights into his relationships with friends like Bruce Lee, Elvis Presley, and many other movie stars, sports figures, and cultural icons. Lastly, many entries are inspirational and educational on a host of issues, from our Constitution to acting to being an overachiever. In almost every entry, Chuck encourages his readers to strive to be their best-physically, mentally, and spiritually. And he uses his five core values (fight, family, faith, fitness, and freedom) to motivate them. If you like quotes, you'll love Norris's collection of quotes ("They Said It"). It is a rich group of sayings from scientists, revolutionaries, and cultural heroes of the past couple of centuries. Quoted are classics like Isaac Newton, Thomas Jefferson, C. S. Lewis, and Mother Teresa, and contemporaries li
- Publisher

Hundreds of thousands of humorous Chuck Norris facts have been published, traveled around the globe via the Internet, and gained an international audience of millions. Chuck Norris facts are a quirky, extremely popular Internet phenomenon that has entertained fans from all over the globe. In the last several years, Chuck Norris has been asked repeatedly from the heartland of America to the battlefields of Iraq and Afghanistan, "Which facts are your favorites?" For the first time ever, in "The Official Chuck Norris Fact Book, " Chuck gives readers not only his favorite "facts," roundhouse-kicked by the man himself, but also the stories behind the facts and the code by which Chuck lives his life. Fans from every corner of the globe will enjoy both the fanciful and inspirational from one of the world's great action heroes. This book makes a perfect gift.
- Publisher


Meet the Author
Chuck Norris
Chuck Norris is known mostly as an action-adventure movie and television star, but considers his humanitarian works his greatest accomplishments. Along with participating with the United Way, Make A Wish Foundation, the Veterans Administration among others, he counts his most rewarding accomplishment as being the creator of the Kick Drugs Out of America Foundation (Kick Start) to help at-risk kids raise their self-esteem and instill discipline and respect. The father of grown children, he, Gena, and their twins divide their time between two homes in Dallas and Tarzana, California.