The One True Love of Alice-Ann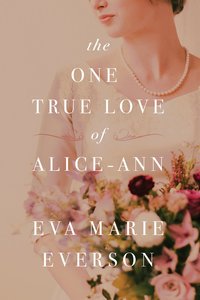 :Living in rural Georgia in 1941, sixteen-year-old Alice-Ann has her heart set on her brother's friend Mack; despite their five-year age gap, Alice-Ann knows she can make Mack see her for the woman she'll become. But when they receive news of the attack on Pearl Harbor and Mack decides to enlist, Alice-Ann realizes she must declare her love before he leaves.

Though promising to write, Mack leaves without confirmation that her love is returned. But Alice-Ann is determined to wear the wedding dress her maiden aunt never had a chance to wear-having lost her fiancé in the Great War. As their correspondence continues over the next three years, Mack and Alice-Ann are drawn closer together. But then Mack's letters cease altogether, leaving Alice-Ann to fear history repeating itself.

Dreading the war will leave her with a beautiful dress and no happily ever after, Alice-Ann fills her days with work and caring for her best friend's war-torn brother, Carlton. As time passes and their friendship develops into something more, Alice-Ann wonders if she'll ever be prepared to say good-bye to her one true love and embrace the future God has in store with a newfound love. Or will a sudden call from overseas change everything?

- Publisher
You May Also Be Interested In
About "The One True Love of Alice-Ann"
:Living in rural Georgia in 1941, sixteen-year-old Alice-Ann has her heart set on her brother's friend Mack; despite their five-year age gap, Alice-Ann knows she can make Mack see her for the woman she'll become. But when they receive news of the attack on Pearl Harbor and Mack decides to enlist, Alice-Ann realizes she must declare her love before he leaves.

Though promising to write, Mack leaves without confirmation that her love is returned. But Alice-Ann is determined to wear the wedding dress her maiden aunt never had a chance to wear-having lost her fiancé in the Great War. As their correspondence continues over the next three years, Mack and Alice-Ann are drawn closer together. But then Mack's letters cease altogether, leaving Alice-Ann to fear history repeating itself.

Dreading the war will leave her with a beautiful dress and no happily ever after, Alice-Ann fills her days with work and caring for her best friend's war-torn brother, Carlton. As time passes and their friendship develops into something more, Alice-Ann wonders if she'll ever be prepared to say good-bye to her one true love and embrace the future God has in store with a newfound love. Or will a sudden call from overseas change everything?
- Publisher


Meet the Author
Eva Marie Everson
Linda Evans Shepherd and Eva Marie Everson are both award-winning authors, successful speakers, radio personalities, and avid readers of fiction. They are the popular authors of The Potluck Club, The Potluck Club--Trouble's Brewing, and The Potluck Club--Takes the Cake. They've also led numerous Bible studies and women's retreats and still find time to be wives and mothers. Linda lives in Longmont, Colorado, and Eva lives in Casselberry, Florida.