The One Year Book of Devotions For Men on the Go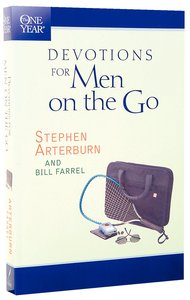 Designed to encourage readers to spend time reading and meditating on the truth of God's Word, these brief devotions, based solidly in Scripture, are ideal for reading over morning coffee, waiting in the car for children after school, or anytime people "on the go" want to make the most of just a few minutes. These devotions will encourage men and women to meditate on God's Word daily, even in the midst of a busy, active schedule.


- Publisher What Am I Here For? Am I Making a Difference?If you - A?A?re like many Christian men these days, you battle forces and responsibilities flying at you from every angle. Family, faith, career, recreation . . . the list is endless, and so is the swirl of dust in your wake as you hit Mach 5 just to keep up. That - A?A?s life on the front lines.Balancing your roles is tough. You may be provider, executive, handyman, husband, father, leader. You spend your waking hours making a living . . . but are you making a life?We all need a strong support system if we - A?A?re going to figure out what it means to live as God - A?A?s man. Each of these brief devotions will encourage you to think about God - A?A?s Word daily. The related Scriptures will provide a solid anchor of truth for every challenge you face. Be the influential, godly, courageous man that God created you to be.

- Publisher
You May Also Be Interested In
About "The One Year Book of Devotions For Men on the Go"
Designed to encourage readers to spend time reading and meditating on the truth of God's Word, these brief devotions, based solidly in Scripture, are ideal for reading over morning coffee, waiting in the car for children after school, or anytime people "on the go" want to make the most of just a few minutes. These devotions will encourage men and women to meditate on God's Word daily, even in the midst of a busy, active schedule.

- Publisher

What Am I Here For? Am I Making a Difference?If you - A?A?re like many Christian men these days, you battle forces and responsibilities flying at you from every angle. Family, faith, career, recreation . . . the list is endless, and so is the swirl of dust in your wake as you hit Mach 5 just to keep up. That - A?A?s life on the front lines.Balancing your roles is tough. You may be provider, executive, handyman, husband, father, leader. You spend your waking hours making a living . . . but are you making a life?We all need a strong support system if we - A?A?re going to figure out what it means to live as God - A?A?s man. Each of these brief devotions will encourage you to think about God - A?A?s Word daily. The related Scriptures will provide a solid anchor of truth for every challenge you face. Be the influential, godly, courageous man that God created you to be.
- Publisher


Meet the Authors
Stephen Arterburn
Stephen Arterburn is the founder and chairman of New Life Ministries, America's largest faith-based broadcast, counselling, and treatment ministry, and is the host of New Life Live!- a daily radio program heard on more than 180 radio stations nationwide. He has been featured in publications such as The New York Times, USA Today, and TIME magazine. Arterburn is also the founder of the 'Women of Faith' conferences and has written over 60 books, including the best-selling Every Man's series.
He has been nominated for writing awards and has won three Gold Medallion awards. Arterburn is a well-known public speaker and in August 2000 was inducted into the National Speakers Association's Hall of Fame. He lives with his family in Laguna Beach, California. Some of his published works include Transformation, Finding Mr Right, Control what is controlling you, Boiling Point and NLT Every Man's Bible.
Koorong -Editorial Review.
Bill Farrel
Bill Farrel is Pastor to Small Groups at Shadow Mountain ComBill Farrel is Pastor to Small Groups at Shadow Mountain Community Church. Bill is co-director (with his wife and anothemunity Church. Bill is co-director (with his wife and another IVP author, Pam) of Masterful Living, a relationships minir IVP author, Pam) of Masterful Living, a relationships ministry. Bill is the co-author ofDevotions for Men on the Go! (stry. Bill is the co-author ofDevotions for Men on the Go! (with Steve Arterburn) and Men are Like Waffles, Women Are Liwith Steve Arterburn) and Men are Like Waffles, Women Are LiC