The One Year Hearing His Voice Devotional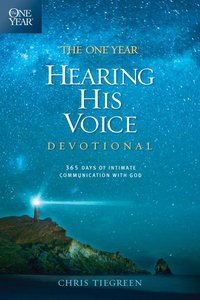 This year, learn to listen for the voice of the One who loves you most.
We know for sure that God speaks to His people. Throughout the pages of Scripture, He guides, instructs, corrects, inspires, encourages, and reveals. Inspired writers even call Him "the Word." He has always been vocal, and He always will be.

But what does He say to you? How does He say it? How can you know when you've heard Him? Now in a deluxe LeatherLike edition, The One Year Hearing His Voice Devotional, written by acclaimed author Chris Tiegreen, will help you discover patterns and practices you can adopt to hear God better. Listening to God is a process, a journey, and an adventure. He promises that those who seek Him will be rewarded with His presence and His voice. And the words of the living God are powerful and life-changing.

- Publisher
You May Also Be Interested In
About "The One Year Hearing His Voice Devotional"
This year, learn to listen for the voice of the One who loves you most.
We know for sure that God speaks to His people. Throughout the pages of Scripture, He guides, instructs, corrects, inspires, encourages, and reveals. Inspired writers even call Him "the Word." He has always been vocal, and He always will be.

But what does He say to you? How does He say it? How can you know when you've heard Him? Now in a deluxe LeatherLike edition, The One Year Hearing His Voice Devotional, written by acclaimed author Chris Tiegreen, will help you discover patterns and practices you can adopt to hear God better. Listening to God is a process, a journey, and an adventure. He promises that those who seek Him will be rewarded with His presence and His voice. And the words of the living God are powerful and life-changing.
- Publisher


Meet the Author
Chris Tiegreen
Chris Tiegreen is a writer and editor for Walk Thru the Bible's "Indeed" devotional magazine, which has won the EPA Award of Excellence in the devotional category for two consecutive years. His first book, At His Feet, was a Gold Medallion award finalist in the same category. Chris has served as a pastor, church planter, and missionary, and has been a university instructor in international politics. Chris and his wife, Hannah, live near Atlanta, Georgia.