The One Year Heaven on Earth Devotional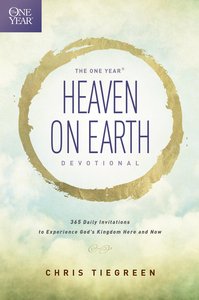 Discover the richness of living in the Kingdom of God-right here on earth.

Do you long for a deep, intimate connection with God? Are you hoping for a day when His Kingdom is realized here on earth? Do you wonder what the Bible has to say about bringing that Kingdom to your everyday life?

The Bible is filled with teachings about the Kingdom of God-it was one of the core messages Jesus proclaimed. The One Year Heaven on Earth Devotional, written by acclaimed author Chris Tiegreen, will take you on a journey through these teachings, exploring what it means to live as a Kingdom citizen right where you are. Enrich your life with God's wisdom, power, and love as you examine the nature of the King and both the opportunities and responsibilities of being part of His Kingdom in the world today. The Kingdom of God is here among us-and you can be a part of bringing it to life in your family, in your community, in the world.

- Publisher
You May Also Be Interested In
About "The One Year Heaven on Earth Devotional"
Discover the richness of living in the Kingdom of God-right here on earth.

Do you long for a deep, intimate connection with God? Are you hoping for a day when His Kingdom is realized here on earth? Do you wonder what the Bible has to say about bringing that Kingdom to your everyday life?

The Bible is filled with teachings about the Kingdom of God-it was one of the core messages Jesus proclaimed. The One Year Heaven on Earth Devotional, written by acclaimed author Chris Tiegreen, will take you on a journey through these teachings, exploring what it means to live as a Kingdom citizen right where you are. Enrich your life with God's wisdom, power, and love as you examine the nature of the King and both the opportunities and responsibilities of being part of His Kingdom in the world today. The Kingdom of God is here among us-and you can be a part of bringing it to life in your family, in your community, in the world.
- Publisher


Meet the Author
Chris Tiegreen
Chris Tiegreen is a writer and editor for Walk Thru the Bible's "Indeed" devotional magazine, which has won the EPA Award of Excellence in the devotional category for two consecutive years. His first book, At His Feet, was a Gold Medallion award finalist in the same category. Chris has served as a pastor, church planter, and missionary, and has been a university instructor in international politics. Chris and his wife, Hannah, live near Atlanta, Georgia.