The Other Side of Infamy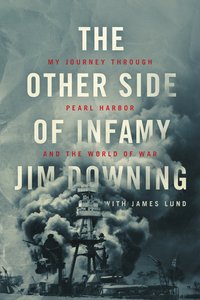 :War is uncomfortable for Christians, and worldwide war is unfamiliar for today's generations. Jim Downing reflects on his illustrious military career, including his experience during the bombing of Pearl Harbor, to show how we can be people of faith during troubled times.

The natural human impulse is to run from attack. Jim Downing?along with countless other soldiers and sailors at Pearl Harbor on December 7, 1941?ran toward it, fighting to rescue his fellow navy men, to protect loved ones and civilians on the island, and to find the redemptive path forward from a devastating war. We are protected from war these days, but there was a time when war was very present in our lives, and in The Other Side of Infamy we learn from a veteran of Pearl Harbor and World War II what it means to follow Jesus into and through every danger, toil, and snare.

- Publisher
You May Also Be Interested In
About "The Other Side of Infamy"
:War is uncomfortable for Christians, and worldwide war is unfamiliar for today's generations. Jim Downing reflects on his illustrious military career, including his experience during the bombing of Pearl Harbor, to show how we can be people of faith during troubled times.

The natural human impulse is to run from attack. Jim Downing?along with countless other soldiers and sailors at Pearl Harbor on December 7, 1941?ran toward it, fighting to rescue his fellow navy men, to protect loved ones and civilians on the island, and to find the redemptive path forward from a devastating war. We are protected from war these days, but there was a time when war was very present in our lives, and in The Other Side of Infamy we learn from a veteran of Pearl Harbor and World War II what it means to follow Jesus into and through every danger, toil, and snare.
- Publisher


Meet the Author
Jim Downing
Jim Downing was recruited by Dawson Trotman to join The Navigators as staff in 1956. He has served as Navigator president Lorne Sanny's deputy, as financial Vice President, worked alongside many early Navigator leaders, served internationally, and was the area representative in Washington, D.C. until his retirement from full-time ministry in 1983. Jim remains on volunteer staff with The Navigators' Collegiate Ministry. As a speaker, Jim has the rare ability to grasp Bible truths and communicate their applications to everyday life. He has traveled extensively in his responsibilities, visiting and ministering to people on every continent of the world. Jim lost his beloved wife of 68 years, Morena, in February, 2010 and continues to live in Colorado Springs.