The Outsider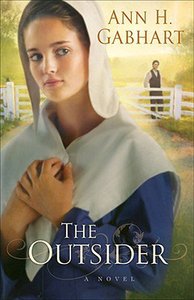 For as long as she can remember, Gabrielle Hope has had the gift of knowing???visions that warn of things to come. When she and her mother joined the Pleasant Hill Shaker community in 1807, the community embraced her gift. But Gabrielle fears this gift, for the visions are often ones of sorrow and tragedy. When one of these visions comes to pass, a local doctor must be brought in to save the life of a young man, setting into motion a chain of events that will challenge Gabrielle??'s loyalty to the Shakers. As she falls deeper into a forbidden love for this man of the world, Gabrielle must make a choice. Can she experience true happiness in this simple and chaste community? Or will she abandon her brothers and sisters for a life of the unknown? Soulful and filled with romance, The Outsider lets readers live within a bygone time among a unique and peculiar people. This tender and thought-provoking story will leave readers wanting more from this writer.

- Publisher Soulful and filled with romance, The Outsider lets readers live through a unique girl in a bygone time among a peculiar people--the Shakers. A tender and thought-provoking story.

- Publisher ExcerptThe harsh clang of the meetinghouse bell shattered the peace of the night. At the sound, Gabrielle jerked upright in her narrow bed. She had not been asleep, but instead had been lying very still with her eyes wide open staring out at the grainy darkness and listening to the soft breathing of the sleeping girls around her. She had matched her own breaths with theirs in hopes of bringing quiet harmony back to her thoughts, but the gift of knowing kept nipping at the corners of her mind. Visions of men with blackened faces, corn melting, and shadows of the world flitting among the trees had troubled her thoughts all day, but it was all too vague for understanding. All she knew for sure was the sense of dread awake and growing inside her. Usually when the gift of knowing came to her it wasn't shrouded in so much mystery. Rather it was clear, as clear as her image in a still pool. But this time a handful of pebbles had dropped in to cloud the pool. Earlier she had gone to her quiet place in the woods to pray for it was often while she prayed that the knowing filled her mind, but the vision had stayed dark and murky.The bell kept tolling the alarm as Gabrielle quickly rose from her bed. Around her the younger sisters were waking and jumping out of bed to see what might be happening. Outside one of the brothers was shouting, "Fire!"

- Publisher
You May Also Be Interested In
About "The Outsider"
For as long as she can remember, Gabrielle Hope has had the gift of knowing???visions that warn of things to come. When she and her mother joined the Pleasant Hill Shaker community in 1807, the community embraced her gift. But Gabrielle fears this gift, for the visions are often ones of sorrow and tragedy. When one of these visions comes to pass, a local doctor must be brought in to save the life of a young man, setting into motion a chain of events that will challenge Gabrielle??'s loyalty to the Shakers. As she falls deeper into a forbidden love for this man of the world, Gabrielle must make a choice. Can she experience true happiness in this simple and chaste community? Or will she abandon her brothers and sisters for a life of the unknown? Soulful and filled with romance, The Outsider lets readers live within a bygone time among a unique and peculiar people. This tender and thought-provoking story will leave readers wanting more from this writer.
- Publisher

Soulful and filled with romance, The Outsider lets readers live through a unique girl in a bygone time among a peculiar people--the Shakers. A tender and thought-provoking story.
- Publisher

ExcerptThe harsh clang of the meetinghouse bell shattered the peace of the night. At the sound, Gabrielle jerked upright in her narrow bed. She had not been asleep, but instead had been lying very still with her eyes wide open staring out at the grainy darkness and listening to the soft breathing of the sleeping girls around her. She had matched her own breaths with theirs in hopes of bringing quiet harmony back to her thoughts, but the gift of knowing kept nipping at the corners of her mind. Visions of men with blackened faces, corn melting, and shadows of the world flitting among the trees had troubled her thoughts all day, but it was all too vague for understanding. All she knew for sure was the sense of dread awake and growing inside her. Usually when the gift of knowing came to her it wasn't shrouded in so much mystery. Rather it was clear, as clear as her image in a still pool. But this time a handful of pebbles had dropped in to cloud the pool. Earlier she had gone to her quiet place in the woods to pray for it was often while she prayed that the knowing filled her mind, but the vision had stayed dark and murky.The bell kept tolling the alarm as Gabrielle quickly rose from her bed. Around her the younger sisters were waking and jumping out of bed to see what might be happening. Outside one of the brothers was shouting, "Fire!"
- Publisher


Meet the Author
Ann H Gabhart
Ann H. Gabhart has published a number of adult and young adult novels with several publishers. The author of The Scent of Lilacs and Orchard of Hope, Ann lives with her husband a mile from where she was born in Lawrenceburg, Kentucky.