The Outsider Interviews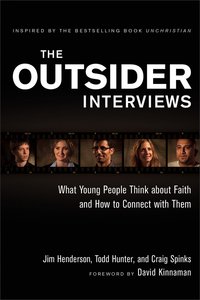 According to statistics, young adults are more disenchanted with the church than ever. Beyond the statistics are the stories--real people with real opinions and real experiences. What if we took the time to listen to the voices behind these statistics? What if we sat down and talked face-to-face with some of these people and really heard what they had to say? That is exactly what these authors do in The Outsider Interviews. Journey with them as they travel the country interviewing young adults, listening to their candid stories and probing questions about Christianity.

- Publisher
You May Also Be Interested In
About "The Outsider Interviews"
According to statistics, young adults are more disenchanted with the church than ever. Beyond the statistics are the stories--real people with real opinions and real experiences. What if we took the time to listen to the voices behind these statistics? What if we sat down and talked face-to-face with some of these people and really heard what they had to say? That is exactly what these authors do in The Outsider Interviews. Journey with them as they travel the country interviewing young adults, listening to their candid stories and probing questions about Christianity.
- Publisher


Meet the Authors
Jim Henderson
JIM HENDERSON is currently a freelance writer. He has been a reporter for the Houston Chronicle and the Dallas Times-Herald.
Todd Hunter
Bishop Todd Hunter (D.Min., George Fox University) of the Anglican Mission in the Americas, is the founding pastor of Holy Trinity Church, an Anglican church in Costa Mesa, California. Dr Hunter is a church planter and a teacher, writer and consultant for his ministry, Society for Kingdom Living, which helps pastors and lay leaders reach a generation that has been disenfranchised from the church.


Formerly national director at Vineyard Churches USA and then at Alpha USA, Hunter continues to serve as consultant to Alpha and as part of the Alpha Board of Directors and Executive Committee. He also serves on a number of other ministry boards, including RENOVARE and Soul Survivor. To find out more, visit his website: www.3isenough.org.
He has recently authored the book Christianity Beyond Belief: Following Jesus for the Sake of Others; The Outsider Interviews (Baker Books, 2010); Giving Church Another Chance: Finding New Meaning in Spiritual Practices and The Accidental Anglican: The Surprising Appeal of the Liturgical Church.
Koorong -Editorial Review. ]
Craig Spinks
Craig Spinks is the owner of Quadrid Productions, a production company that specializes in capturing real-life stories that challenge, inform and motivate. He has done work for Billy Graham Mission, Focus on the Family, Henry Cloud, Association of Vineyard Churches, and Vineyard Music. Craig also runs a website called Recycle Your Faith (recycleyourfaith.com) where each week a compelling spiritual topic is introduced through a short video and a vibrant online conversation ensues between people of different viewpoints. Craig and his wife Sara live in Denver, Colorado. A