The Painter's Daughter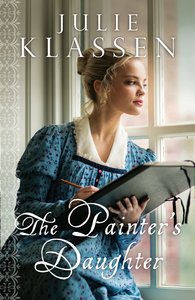 Julie Klassen Is the Gold Standard for Inspirational Regency Fiction

Sophie Dupont, daughter of a portrait painter, assists her father in his studio, keeping her own artwork out of sight. She often walks the cliffside path along the north Devon coast, popular with artists and poets. It's where she met the handsome Wesley Overtree, the first man to tell her she's beautiful.

Captain Stephen Overtree is accustomed to taking on his brother's neglected duties. Home on leave, he's sent to find Wesley. Knowing his brother rented a cottage from a fellow painter, he travels to Devonshire and meets Miss Dupont, the painter's daughter. He's startled to recognize her from a miniature portrait he carries with him--one of Wesley's discarded works. But his happiness plummets when he realizes Wesley has left her with child and sailed away to Italy in search of a new muse.

Wanting to do something worthwhile with his life, Stephen proposes to Sophie. He does not offer love, or even a future together, but he can save her from scandal. If he dies in battle, as he believes he will, she'll be a respectable widow with the protection of his family.

Desperate for a way to escape her predicament, Sophie agrees to marry a stranger and travel to his family's estate. But at Overtree Hall, her problems are just beginning. Will she regret marrying Captain Overtree when a repentant Wesley returns? Or will she find herself torn between the father of her child and her growing affection for the husband she barely knows?

- Publisher
You May Also Be Interested In
About "The Painter's Daughter"
Julie Klassen Is the Gold Standard for Inspirational Regency Fiction

Sophie Dupont, daughter of a portrait painter, assists her father in his studio, keeping her own artwork out of sight. She often walks the cliffside path along the north Devon coast, popular with artists and poets. It's where she met the handsome Wesley Overtree, the first man to tell her she's beautiful.

Captain Stephen Overtree is accustomed to taking on his brother's neglected duties. Home on leave, he's sent to find Wesley. Knowing his brother rented a cottage from a fellow painter, he travels to Devonshire and meets Miss Dupont, the painter's daughter. He's startled to recognize her from a miniature portrait he carries with him--one of Wesley's discarded works. But his happiness plummets when he realizes Wesley has left her with child and sailed away to Italy in search of a new muse.

Wanting to do something worthwhile with his life, Stephen proposes to Sophie. He does not offer love, or even a future together, but he can save her from scandal. If he dies in battle, as he believes he will, she'll be a respectable widow with the protection of his family.

Desperate for a way to escape her predicament, Sophie agrees to marry a stranger and travel to his family's estate. But at Overtree Hall, her problems are just beginning. Will she regret marrying Captain Overtree when a repentant Wesley returns? Or will she find herself torn between the father of her child and her growing affection for the husband she barely knows?
- Publisher


Meet the Author
Julie Klassen
Klassen is a fiction editor with a background in advertising. Lady of Milkweed Manor is her first novel. Julie and her husband have two sons and liye in Minnesota.
Customer Reviews For "The Painter's Daughter"
Write Your Own Review
Story that captures your heart
By Tracy,

Aug 06 2018
I was hooked from the first page and found myself captured by this moving novel of love, heartbreak, revenge, mystery, drama, family secrets and twists.  Thoroughly enjoyed the journey this story took me on.  The Author captures your heart with a compelling and intense love triangle story between two brothers and a Painters Daughter.  It is a powerful story with unforgettable and vivid characters that capture your heart all the way through to the end of the story.  A beautiful and moving love story that was hard to put down.  A delight to read.
---
Great book!
By Laura,

May 20 2016
Julie Klassen has written another completely captivating novel with beautifully depicted scenes, excellently portrayed characters and more riveting mystery. A Regency era must read!!!
---
Can't put down book
By Joy,

Mar 31 2016
Right from the beginning of this book the writer had me hooked as she captivated my attention with the plight of the characters and continued to build on the story in a way that kept me on the edge of my seat, wondering how things would pan out for Sophie, the painter's daughter. 

There were many hard times and hard decisions Sophie had to make yet one wonders throughout the story whether she was making the right decisions. For some life can certainly be tough.

Often in life many of us have hard times and need to make difficult decisions but with God's help, He will be with us and get us through our struggles. 
---
Beautiful story of grace
By Hannah,

Mar 24 2016
This was such a beautiful story of grace, love and forgiveness. I fell in love with the characters from the first chapter and loved following their journeys throughout the book - made even better by the extended length of the book! It was frustrating to have to put it down and get back to reality... Definitely one I'll read again as, alongside the beautiful romance, were so many great descriptions, character lines and sweet moments. Highly recommend it to anyone who enjoys a good, deeper than the average, romance. 

---
Beautifully Engaging
By Jacqui,

Feb 01 2016
If you love books written in the Jane Austin era and style you should love this book. In fact Julie Klassen confesses in her writer's note that she borrowed some lines from Jane Austin. These only add to the appeal of the story. I love a book that when you finish it you just want to spend more time in the lives of the characters as they have seemed so real and engaging. This is that sort of book. Although very different in personality each of the characters from the main ones to the minor ones come together in a story that if full of romance, angst, mystery, beautiful scenery and funny moments. A difficult book to put down and well worth reading. 
{{review.title}}
By {{review.author.name}},

{{review.reviewCreatedDate | date:'MMM dd yyyy'}}

{{reviewdescription}}
{{review.text}}
---