The Passionate Mom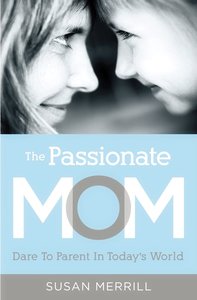 Motherhood is full of uncertainty. What do my children really need? Why are they doing that? Is this normal? What can I do to help them? How can I know for certain that I am doing this right?
The logistics are easy. Anybody can do laundry and carpool. But what makes a mother the best mom she can be?

It s not better scheduling. Or more activities. Or less.

It is passion the passion to teach, protect, study, and prepare her children for the future.
Great, but how?
Susan Merrill, the mother of five incredibly different children, has asked that question countless times. And she has read countless answers specific to a certain child s temperament, age, or situation. But nothing she read offered an overall approach to parenting that would enable her to say with confidence, I am doing this right. She never guessed she would find a foundational plan a reliable, universal parenting approach in the Old Testament book of Nehemiah.
In
The Passionate Mom,
Susan takes you on a journey through Nehemiah and into the heart of parenting. Her stories and confessions in every chapter reveal what she has learned: no mom can control her child s future, but every mom can parent well. There is a plan a roadmap for how a passionate mom can parent almost any child, confidently.
"...This book reaches mothers like me at both the heart level and the head level, showing us how to guide our children passionately and practically..."
--Shaunti
Feldhahn, social researcher, national speaker and best-selling author of "For Women Only"

Being a mother is the greatest joy of my life. My friend Susan Merrill regularly inspires me in my role as a Mother. In her book, she will inspire you!"
--Denise Jonas, Mother of Kevin, Joe, Nick and Frankie Jonas


"Every mother's goal is to see her children fully blossom. In 'The Passionate Mom' Susan Merrill not only outlines the qualities women need to be successful moms, but also lays out a practical, biblical plan to help develop those qualities. She provides sound advice to help in the difficult task of raising children." --Lauren and Tony Dungy

- Publisher
You May Also Be Interested In
About "The Passionate Mom"
Motherhood is full of uncertainty. What do my children really need? Why are they doing that? Is this normal? What can I do to help them? How can I know for certain that I am doing this right?

The logistics are easy. Anybody can do laundry and carpool. But what makes a mother the best mom she can be?


It s not better scheduling. Or more activities. Or less.


It is passion the passion to teach, protect, study, and prepare her children for the future.

Great, but how?

Susan Merrill, the mother of five incredibly different children, has asked that question countless times. And she has read countless answers specific to a certain child s temperament, age, or situation. But nothing she read offered an overall approach to parenting that would enable her to say with confidence, I am doing this right. She never guessed she would find a foundational plan a reliable, universal parenting approach in the Old Testament book of Nehemiah.

In The Passionate Mom, Susan takes you on a journey through Nehemiah and into the heart of parenting. Her stories and confessions in every chapter reveal what she has learned: no mom can control her child s future, but every mom can parent well. There is a plan a roadmap for how a passionate mom can parent almost any child, confidently.

"...This book reaches mothers like me at both the heart level and the head level, showing us how to guide our children passionately and practically..."
--Shaunti Feldhahn, social researcher, national speaker and best-selling author of "For Women Only"

Being a mother is the greatest joy of my life. My friend Susan Merrill regularly inspires me in my role as a Mother. In her book, she will inspire you!"
--Denise Jonas, Mother of Kevin, Joe, Nick and Frankie Jonas



"Every mother's goal is to see her children fully blossom. In 'The Passionate Mom' Susan Merrill not only outlines the qualities women need to be successful moms, but also lays out a practical, biblical plan to help develop those qualities. She provides sound advice to help in the difficult task of raising children." --Lauren and Tony Dungy



- Publisher


Meet the Author
Susan Merrill
Susan Merrill is a wife, mother of five, director of iMOM.com, want-to-be blogger, and the very imperfect Merrill family manager. Susan lives in Tampa, Florida, with her handsome hubby, author Mark Merrill, and two or, depending on the day, up to five of her children ages 16 to 22. On those days she happily forsakes all other responsibilities to run a bed and breakfast / Laundromat for college students. A
Media