The Pastor's Family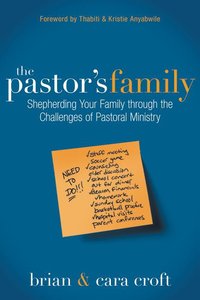 Featuring insights from the perspective of both a pastor and his wife---The Pastor's Family identifies the complicated burdens and expectations ministry brings to the life of a family. Brian and Cara Croft identify the unique challenges that pastors face as husbands and fathers. They also discuss the difficulties and joys of being a pastor's wife and offer practical advice on raising children in a ministry family. In addition to addressing the challenges of marriage and raising children, they also highlight the joys of serving together as a family and the unique opportunities pastors have to train their children and lead their families. With discussion questions for use by couples and pastoral reading groups, this book is ideal for pastors and their spouses, pastoral ministry students and their wives, as well as elders, deacons, and others who wish to remain faithful to the care of their families while diligently fulfilling their calling in ministry. The Pastor's Family equips pastors with time-tested wisdom to address the tension of family and congregational dynamics while persevering in their calling.

- Publisher
You May Also Be Interested In
About "The Pastor's Family"
Featuring insights from the perspective of both a pastor and his wife---The Pastor's Family identifies the complicated burdens and expectations ministry brings to the life of a family. Brian and Cara Croft identify the unique challenges that pastors face as husbands and fathers. They also discuss the difficulties and joys of being a pastor's wife and offer practical advice on raising children in a ministry family. In addition to addressing the challenges of marriage and raising children, they also highlight the joys of serving together as a family and the unique opportunities pastors have to train their children and lead their families. With discussion questions for use by couples and pastoral reading groups, this book is ideal for pastors and their spouses, pastoral ministry students and their wives, as well as elders, deacons, and others who wish to remain faithful to the care of their families while diligently fulfilling their calling in ministry. The Pastor's Family equips pastors with time-tested wisdom to address the tension of family and congregational dynamics while persevering in their calling.
- Publisher


Meet the Authors
Brian Croft
Brian Croft graduated from Indiana University in 1997 with a BA in Sociology and did some graduate work at The Southern Baptist Theological Seminary. He has served in pastoral ministry in some manner for over 12 years and is currently in his 5th year as Senior Pastor of Auburndale Baptist Church in Louisville, Kentucky, USA. He and his wife, Cara, have 4 children: Samuel, Abby, Isabelle and Claire. His hobbies include sports (golf, tennis, racketball), playing music (piano and guitar), reading (especially biographies and American history), teaching self-defense classes and teaching his children sports and music.
Cara Croft
Cara Croft is a wife to Brian and a homeschooling mother of their four children. She did her undergraduate work at Asbury College and serves in a number of ways teaching and discipling the ladies of Auburndale Baptist Church. She enjoys serving her husband and family and looks forward to when she will have more time to pursue her love of speaking, teaching, writing and photography.
Media