The Patmos Deception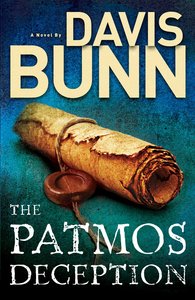 An Ancient Island Holds an Ancient Secret ...

Nick Hennessy, a young Texas journalist yearning for his big break, finds himself in Europe--his assignment, to investigate the alarming disappearance of invaluable Grecian antiquities. Nick has the credentials--and cover ID--to unearth the truth. And he knows just the researcher to help him...

Carey Mathers, fresh from her studies in forensic archeology, has accepted a job with the prestigious Athens Institute for Antiquities--a dream come true, really, particularly when the Greek isle of Patmos, where the Apostle John received his vision of the Apocalypse, was a particular focus of her research.

Dimitri Rubinos, for whom the Greek islands represent his life, holds on by his fingernails to the family charter boat business. But his country's economic chaos isn't the only thing that has turned his world on its head...

- Publisher
You May Also Be Interested In
About "The Patmos Deception"
An Ancient Island Holds an Ancient Secret ...

Nick Hennessy, a young Texas journalist yearning for his big break, finds himself in Europe--his assignment, to investigate the alarming disappearance of invaluable Grecian antiquities. Nick has the credentials--and cover ID--to unearth the truth. And he knows just the researcher to help him...

Carey Mathers, fresh from her studies in forensic archeology, has accepted a job with the prestigious Athens Institute for Antiquities--a dream come true, really, particularly when the Greek isle of Patmos, where the Apostle John received his vision of the Apocalypse, was a particular focus of her research.

Dimitri Rubinos, for whom the Greek islands represent his life, holds on by his fingernails to the family charter boat business. But his country's economic chaos isn't the only thing that has turned his world on its head...
- Publisher


Meet the Author
Davis Bunn
Davis Bunn is an internationally-acclaimed author who has sold more than four million books in fifteen languages. Honoured with three Christy Awards for excellence in historical and suspense fiction, he has written several bestsellers, including The Great Divide, Winner Take All, The Meeting Place, The Book of Hours, Drummer in the Dark, To the Ends of the Earth, and The Quilt. Davis is also the co-author of the Song of Acadia series with Janette Oke. A sought-after lecturer in the art of writing, Davis Bunn has been named Novelist in Residence at Regent's Park College, Oxford University.