The Patrick Bowers Collection (5in1) (The Bowers Files Series)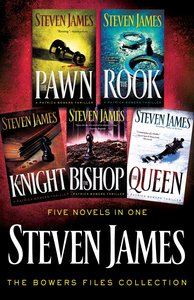 FBI Special Agent Patrick Bowers's expertise lies in the field of cutting-edge 21st century investigative techniques. With his unique skills, he tracks down terrorists, serial killers, and arsonists, bringing justice to bear on some of the worst criminals the world coughs up. Gritty, chilling, and impossible to put down, these psychological thrillers are guaranteed to keep readers up all night.


What people are saying about the Bowers Files

"Riveting."--Publishers Weekly

"Fast-paced, crisp writing ... a satisfying read."--CBA Retailers

"In a word, intense."--Mysterious Reviews

"Readers will be on the edge of their seats."--Romantic Times

"Be warned--James's books are not for the timid."--Mitch Galin, producer, Stephen King's The Stand

"This is thriller writing at its absolute best."--TheChristianManifesto.com

"James tells stories that grab you by the collar and don't let go."--Norb Vonnegut, author, Top Producer

"Absolutely brilliant."--Jeff Buick, bestselling author, Bloodline

"Seriously intense."--Pop Culture Tuesday

"As thrilling and unexpected as any five-star action movie."--John Tinker, Emmy-award-winning writer

"Exquisite."--Fiction Fanatics Only

"Thriller writing at its highest level."--TitleTrakk.com

"James clearly knows how to spin a yarn."--Booklist

"Pulse-pounding suspense."--FictionAddict.com

"John Sanford might have to start looking over his shoulder."--Crimespree magazine

"Exhilarating."--Mysterious Reviews

"Steven James has mastered the thriller."--The Suspense Zone

- Publisher
You May Also Be Interested In
About "The Patrick Bowers Collection (5in1) (The Bowers Files Series)"
FBI Special Agent Patrick Bowers's expertise lies in the field of cutting-edge 21st century investigative techniques. With his unique skills, he tracks down terrorists, serial killers, and arsonists, bringing justice to bear on some of the worst criminals the world coughs up. Gritty, chilling, and impossible to put down, these psychological thrillers are guaranteed to keep readers up all night.


What people are saying about the Bowers Files

"Riveting."--Publishers Weekly

"Fast-paced, crisp writing ... a satisfying read."--CBA Retailers

"In a word, intense."--Mysterious Reviews

"Readers will be on the edge of their seats."--Romantic Times

"Be warned--James's books are not for the timid."--Mitch Galin, producer, Stephen King's The Stand

"This is thriller writing at its absolute best."--TheChristianManifesto.com

"James tells stories that grab you by the collar and don't let go."--Norb Vonnegut, author, Top Producer

"Absolutely brilliant."--Jeff Buick, bestselling author, Bloodline

"Seriously intense."--Pop Culture Tuesday

"As thrilling and unexpected as any five-star action movie."--John Tinker, Emmy-award-winning writer

"Exquisite."--Fiction Fanatics Only

"Thriller writing at its highest level."--TitleTrakk.com

"James clearly knows how to spin a yarn."--Booklist

"Pulse-pounding suspense."--FictionAddict.com

"John Sanford might have to start looking over his shoulder."--Crimespree magazine

"Exhilarating."--Mysterious Reviews

"Steven James has mastered the thriller."--The Suspense Zone
- Publisher


Meet the Author
Steven James
Steven James is an award-winning author and professional storyteller. He has written more than a dozen books and over 500 articles, stories, and scripts. Steven appears weekly at conferences, churches, schools, and special events around the country sharing his unique blend of drama, comedy, and inspirational speaking. He lives with his wife and three daughters in eastern Tennessee.
Other Titles In The "The Bowers Files Series" Series View All