The Pleasure of His Company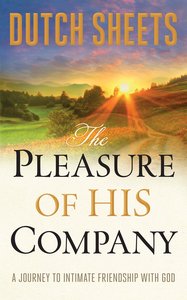 Experience God's Presence in a Whole New Way

There's just something about people who are close to God. Through the ups and downs of life, they remain secure, hopeful. If you want a more rewarding spiritual life, if you want the pleasure of knowing your Creator's heart, this soul-lifting book is for you.

Learn from Dutch Sheets as he shares his life lessons for cultivating an intimate relationship with God. Each of the thirty short chapters reveals a simple practice or biblical mindset that will help draw you away from the noise of life and into the Lord's peaceful presence.

With profound insights from the Bible and stories you won't soon forget, The Pleasure of His Company is like a spiritual mentor, showing you simple ways to enjoy God more.

This powerful book can also be enjoyed as a daily devotional.

- Publisher
You May Also Be Interested In
About "The Pleasure of His Company"
Experience God's Presence in a Whole New Way

There's just something about people who are close to God. Through the ups and downs of life, they remain secure, hopeful. If you want a more rewarding spiritual life, if you want the pleasure of knowing your Creator's heart, this soul-lifting book is for you.

Learn from Dutch Sheets as he shares his life lessons for cultivating an intimate relationship with God. Each of the thirty short chapters reveals a simple practice or biblical mindset that will help draw you away from the noise of life and into the Lord's peaceful presence.

With profound insights from the Bible and stories you won't soon forget, The Pleasure of His Company is like a spiritual mentor, showing you simple ways to enjoy God more.

This powerful book can also be enjoyed as a daily devotional.
- Publisher


Meet the Author
Dutch Sheets
Dutch Sheets is the Senior Pastor of Springs Harvest Fellowship in Colorado Springs, Colorado. He has served on the faculty of Christ for the Nations Institute, and now serves as an instructor for Destiny Bible School and is a guest lecturer for Wagner Leadership Institute. He serves on many ministry boards and is a best selling author with books including Intercessory Prayer, Watchman Prayer and How to Pray for Lost Loved Ones among others. He travels across America and other nations challenging believers for passionate prayer and world-changing revival. Dutch and his wife, Ceci, and their daughters, Sarah and Hannah, make their home in Colorado Springs. - Publisher.