The Power of One Thing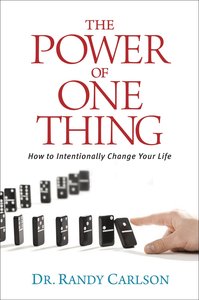 From counselor and popular radio host Dr. Randy Carlson comes a new book containing the surprising truth: Living a better life is easier than you think! Instead of making big resolutions that quickly overwhelm you, The Power of One Thing invites you to begin moving toward change one daily, intentional step at a time. You'll learn how to figure out which positive change can make the biggest payoff in your life; you'll get practical tips from those who have already benefited from this plan; and you'll see how your one thing, lived intentionally over time, will help you to achieve the dreams you?d almost given up on.

- Publisher
You May Also Be Interested In
About "The Power of One Thing"
From counselor and popular radio host Dr. Randy Carlson comes a new book containing the surprising truth: Living a better life is easier than you think! Instead of making big resolutions that quickly overwhelm you, The Power of One Thing invites you to begin moving toward change one daily, intentional step at a time. You'll learn how to figure out which positive change can make the biggest payoff in your life; you'll get practical tips from those who have already benefited from this plan; and you'll see how your one thing, lived intentionally over time, will help you to achieve the dreams you?d almost given up on.
- Publisher


Meet the Author
Randy Carlson
Dr. Randy Carlson, president of Family Life Communications, is a psychologist, author, speaker, and radio host. He hosts two nationally-syndicated radio shows, "Parent Talk OnCall" and "Parent Talk Tip" with more than 300 radio outlets. He also oversees the Women of Virtue Conference and radio ministry. His past books include: Unlocking the Secrets of Your Childhood Memories (co-authored with Dr. Kevin Leman), Parent Talk, Father Memories, and The Cain and Abel Syndrome.