The Power of Persistent Prayer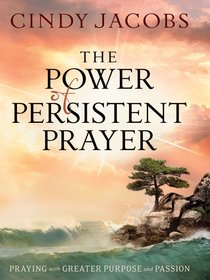 Cindy Jacobs, bestselling author and recognized leader in the worldwide prayer movement, brings her passionate message to all Christians who struggle with prayer or desire to be more effective prayer warriors. This powerful guide will answer such questions as, "Why does it take so long to receive answers to my prayers?" "How can I take my prayer life to the next level?" and many more. Whether they wonder why their prayers aren't answered, if God likes the way they pray, or if they are persistent enough in their prayers, Jacobs addresses these concerns and provides solid biblical answers.

Written out of the crucible of her own deep prayer life, Jacobs starts with basic teaching and builds up to more in-depth topics, including fasting and spiritual warfare. Readers will come away with a fresh understanding of how to develop a strong, consistent prayer life and to discover the power of persistent prayer.

- Publisher
You May Also Be Interested In
About "The Power of Persistent Prayer"
Cindy Jacobs, bestselling author and recognized leader in the worldwide prayer movement, brings her passionate message to all Christians who struggle with prayer or desire to be more effective prayer warriors. This powerful guide will answer such questions as, "Why does it take so long to receive answers to my prayers?" "How can I take my prayer life to the next level?" and many more. Whether they wonder why their prayers aren't answered, if God likes the way they pray, or if they are persistent enough in their prayers, Jacobs addresses these concerns and provides solid biblical answers.

Written out of the crucible of her own deep prayer life, Jacobs starts with basic teaching and builds up to more in-depth topics, including fasting and spiritual warfare. Readers will come away with a fresh understanding of how to develop a strong, consistent prayer life and to discover the power of persistent prayer.
- Publisher


Meet the Author
Cindy Jacobs
"CINDY JACOBS " is founder and president of Generals International, an international prayer ministry that works to build prayer movements in nations around the world. She travels extensively, speaking on and ministering in the areas of intercession, spiritual warfare and reconciliation. Cindy is on the international board of Aglow. Other books she has written include Women of Destiny and Deliver Us from Evil. "