The Power of Prayer and Fasting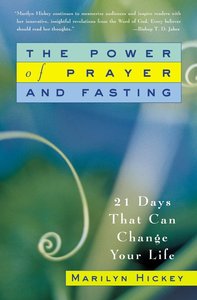 Many believe prayer combined with fasting is an archaic discipline practiced only by early believers. Yet together, prayer and fasting form a powerful tool, says Bible teacher Marilyn Hickey, for helping us to overcome evil, achieve wholeness, and experience revival. The benefits of prayer and fasting are both physical and spiritual. In fact, this combination is important to believers in every age because it: Inspires spiritual cleansing through intense contact with the Lord, Makes us more sensitive to the Holy Spirit's leading, Actually creates energy, tightens focus, and unifies groups of people, Promotes healing within the body, Breaks spiritual yokes of bondage, Revives our spirits to serve God.

- Publisher Television host, widely traveled speaker, and communicator Marilyn Hickey reveals the surprising power and rich benefits of fasting in her 21-day program.

- Publisher
You May Also Be Interested In
About "The Power of Prayer and Fasting"
Many believe prayer combined with fasting is an archaic discipline practiced only by early believers. Yet together, prayer and fasting form a powerful tool, says Bible teacher Marilyn Hickey, for helping us to overcome evil, achieve wholeness, and experience revival. The benefits of prayer and fasting are both physical and spiritual. In fact, this combination is important to believers in every age because it: Inspires spiritual cleansing through intense contact with the Lord, Makes us more sensitive to the Holy Spirit's leading, Actually creates energy, tightens focus, and unifies groups of people, Promotes healing within the body, Breaks spiritual yokes of bondage, Revives our spirits to serve God.
- Publisher

Television host, widely traveled speaker, and communicator Marilyn Hickey reveals the surprising power and rich benefits of fasting in her 21-day program.
- Publisher


Meet the Author
Marilyn Hickey
Marilyn Hickey is no stranger to impacting the lives of millions worldwide. As founder and president of Marilyn Hickey Ministries, Mariyn is being used by God to help "cover the earth with the Word." Her mission has been effectively accomplished through various avenues of ministry such as partnering with other ministries to ship thousands of Bibles into Communist countries; holding crusades in places like Ethiopia, the Philippines, Korea, Haiti, Brazil, Malaysia, Japan, and Honduras; and reaching individuals worldwide through television broadcasts seen on networks such as Black Entertainment Network (BET) and Trinity Broadcasting Network (TBN).
In addition, Marilyn Hickey Ministries has established a fully accredited 2-year Bible college to raise up Christian leaders to carry out Gods mission. Marilyn also serves the body of Christ as the Chairman of the Board of Regents for Oral Roberts University, and is the only woman serving on the Board of Directors for Dr. Davie Yonggi Cho (pastor of the world's largest congregation, Yoido Full Gospel Church).
In addition to her ministry, Marilyn is also a busy wife and mother of two grown children. She is married to Wallace Hickey, pastor of Orchard Road Christian Center in Greenwood Village, Colorado. Visit the author's website at: www.mhmin.org..