The Power of Who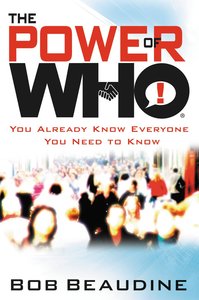 Bob Beaudine believes Networking is Not working for Americans any longer. This highly respected and well-connected head hunter shares his philosophy on what really works in identifying what your dream in life is and how to get it. With his unique 100/40 principle, Beaudine takes the traditional networking concept, shakes it up and rebuilds it, explaining that individuals already know everyone they need to know. He shows readers that they have established a powerful network simply by interacting with people in their daily lives. Beaudine explains this new way to achieve dreams clearly, in a step-by step fashion using his well-tested knowledge to break it down and help readers tap into the Power of Who.

- Publisher
You May Also Be Interested In
About "The Power of Who"
Bob Beaudine believes Networking is Not working for Americans any longer. This highly respected and well-connected head hunter shares his philosophy on what really works in identifying what your dream in life is and how to get it. With his unique 100/40 principle, Beaudine takes the traditional networking concept, shakes it up and rebuilds it, explaining that individuals already know everyone they need to know. He shows readers that they have established a powerful network simply by interacting with people in their daily lives. Beaudine explains this new way to achieve dreams clearly, in a step-by step fashion using his well-tested knowledge to break it down and help readers tap into the Power of Who.
- Publisher


Meet the Author
Bob Beaudine
Bob Beaudine is the president and CEO of Eastman & Beaudine and recognized as the top Sports/Entertainment search executive in the U.S. He also serves as a member of the SMU Cox School of Business Associate Board.