The Power to Prevail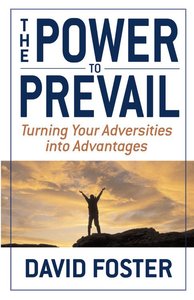 Pastor David Foster looks to the Scriptures for advice on how to overcome theobstacles in life and turn adversity into advantage, presenting a three-pointplan that helps to promote a positive response.

- Publisher Imagine life as you would like it to be. Would it include sickness, anxiety, fear, misfortune, or even a hard day at the office? The fact is life is hard. Sometimes very hard. And because adversity is not an option, the secret to happiness is really in... Where do we find the ability to climb instead of crawl, to fly instead of flounder, and to overcome real hurdles of fear, grief, and guilt? In his clear, powerful, and down-to-earth voice, David Foster looks to the Scriptures for advice, inspiration, and practical knowledge in overcoming adversity. Just as our greatest biblical heroes -- from Moses to David to Jesus himself -- faced the very worst of trials, this book helps us see that being a person of faith doesn't translate to living on Easy Street and that we can all learn to transform hardships into advantages by: Turning Can't into Can. No one is good at everything. But you can excel at being you -- and understanding what it truly means to be created in God's image.

- Publisher In THE POWER TO PREVAIL, David Foster explores the paradox of adversity.

- Publisher
You May Also Be Interested In
About "The Power to Prevail"
Pastor David Foster looks to the Scriptures for advice on how to overcome theobstacles in life and turn adversity into advantage, presenting a three-pointplan that helps to promote a positive response.
- Publisher

Imagine life as you would like it to be. Would it include sickness, anxiety, fear, misfortune, or even a hard day at the office? The fact is life is hard. Sometimes very hard. And because adversity is not an option, the secret to happiness is really in... Where do we find the ability to climb instead of crawl, to fly instead of flounder, and to overcome real hurdles of fear, grief, and guilt? In his clear, powerful, and down-to-earth voice, David Foster looks to the Scriptures for advice, inspiration, and practical knowledge in overcoming adversity. Just as our greatest biblical heroes -- from Moses to David to Jesus himself -- faced the very worst of trials, this book helps us see that being a person of faith doesn't translate to living on Easy Street and that we can all learn to transform hardships into advantages by: Turning Can't into Can. No one is good at everything. But you can excel at being you -- and understanding what it truly means to be created in God's image.
- Publisher

In THE POWER TO PREVAIL, David Foster explores the paradox of adversity.
- Publisher


Meet the Author
David Foster
David Kyle Foster is the president of Mastering Life Ministries in Nashville, Tennessee. In 1980, Christ rescued David from 20 years of extreme sexual addiction and moral rebellion. David has since worked in Christian counsel and ministry for such organizations as the Christian Broadcasting Network and Youth with a Mission. He regularly appears on national television and radio and is the host of the weekly radio program Mastering Life, the winner of both Angel and Covenant awards. David Kyle Foster lives in Jacksonville, Florida.