The Practice of Godliness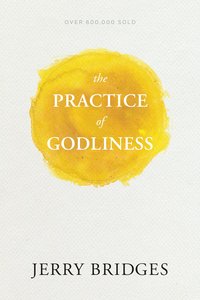 Over 500,000 copies in print!
"Godliness has value for all things." -1 Timothy 4:8 (NIV)

How can you develop godly character? Bestselling author Jerry Bridges says that godliness is more than a character trait: "It is a foundational spiritual quality that makes the entire Christian life dynamic, effective, and pleasing to God." Growing in godliness is a twofold process. It involves an ever-deepening devotion to God and developing character that is steadily transformed into His likeness.

In The Practice of Godliness, the sequel to the popular book The Pursuit of Holiness, readers will learn how laying an inward foundation of God-centeredness will permit them to build an outward structure of godliness. Character formation will never be the same! Discussion guide included.

- Publisher
You May Also Be Interested In
About "The Practice of Godliness"
Over 500,000 copies in print!
"Godliness has value for all things." -1 Timothy 4:8 (NIV)

How can you develop godly character? Bestselling author Jerry Bridges says that godliness is more than a character trait: "It is a foundational spiritual quality that makes the entire Christian life dynamic, effective, and pleasing to God." Growing in godliness is a twofold process. It involves an ever-deepening devotion to God and developing character that is steadily transformed into His likeness.

In The Practice of Godliness, the sequel to the popular book The Pursuit of Holiness, readers will learn how laying an inward foundation of God-centeredness will permit them to build an outward structure of godliness. Character formation will never be the same! Discussion guide included.
- Publisher


Meet the Author
Jerry Bridges
Jerry Bridges is one of the most widely recognized and trusted Christian writers today. The former vice-president for corporate affairs of The Navigators, he continues to serve as a Navigators staff member, ministering to college students, churches, and other groups around the world. His first book, The Pursuit of Holiness, is a modern classic with sales over one million copies. He is also the author of I Exalt You, O God, The Practice of Godliness, Trusting God, Transforming Grace, The Discipline of Grace (winner of the ECPA Gold Medallion award), and The Joy of Fearing God.