The Prism Weight Loss Program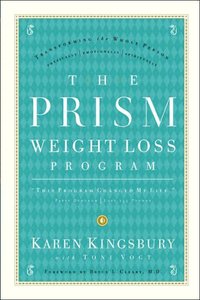 The PRISM(tm) Weight Loss Program, founded in 1990, has helped more than 60,000 people transform their eating behaviors with a sensible, lifestyle-change approach. That approach is now available in The Prism Weight Loss Program, by bestselling author Karen Kingsbury and Prism cofounder Toni Vogt. The book shows readers how to not just tame the monster of food addiction, but destroy it through simple eating strategies and biblical principles. It includes testimonials, descriptions of the authors' personal struggles with food addiction and their ultimate success, details of the program, and a recipe section that will help readers become the people God created them to be.


From the Hardcover edition.

- Publisher
You May Also Be Interested In
About "The Prism Weight Loss Program"
The PRISM(tm) Weight Loss Program, founded in 1990, has helped more than 60,000 people transform their eating behaviors with a sensible, lifestyle-change approach. That approach is now available in The Prism Weight Loss Program, by bestselling author Karen Kingsbury and Prism cofounder Toni Vogt. The book shows readers how to not just tame the monster of food addiction, but destroy it through simple eating strategies and biblical principles. It includes testimonials, descriptions of the authors' personal struggles with food addiction and their ultimate success, details of the program, and a recipe section that will help readers become the people God created them to be.


From the Hardcover edition.
- Publisher


Meet the Author
Karen Kingsbury
Karen Kingsbury is America's favorite inspirational novelist with over 5 million books in print. Her Life-Changing Fiction has produced multiple bestsellers including Even Now, One Tuesday Morning, Beyond Tuesday Morning, and the popular Redemption Series. An award-winning author and newly published songwriter, Karen has had several movies optioned for production and her Christmas novel, Gideon's Gift, is as a major motion picture.