The Prodigal God: Recovering the Heart of the Christian Faith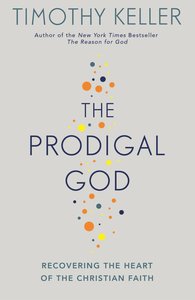 In THE PRODIGAL GOD, New York pastor Timothy Keller uses the story of the prodigal son to shine a light on the central, beautiful message of Jesus: the gospel of grace, hope and salvation.Keller argues that the parable of the prodigal son, while Jesus' best-known parable, is also his least understood. He introduces the reader to all the characters in this timeless story, showing that it concerns not just a wayward son, but also a judgemental older brother and, most importantly, a loving father.This short but powerful book is a reminder to the faithful, an explanation to the seeker, and finally an invitation to all - both older and younger brothers - to enter in to the 'unique, radical nature of the gospel': the reckless, spendthrift love of God.

- Publisher
You May Also Be Interested In
About "The Prodigal God: Recovering the Heart of the Christian Faith"
In THE PRODIGAL GOD, New York pastor Timothy Keller uses the story of the prodigal son to shine a light on the central, beautiful message of Jesus: the gospel of grace, hope and salvation.Keller argues that the parable of the prodigal son, while Jesus' best-known parable, is also his least understood. He introduces the reader to all the characters in this timeless story, showing that it concerns not just a wayward son, but also a judgemental older brother and, most importantly, a loving father.This short but powerful book is a reminder to the faithful, an explanation to the seeker, and finally an invitation to all - both older and younger brothers - to enter in to the 'unique, radical nature of the gospel': the reckless, spendthrift love of God.
- Publisher


Meet the Author
Timothy J Keller
Timothy Keller is the founding pastor of Redeemer Presbyterian Church in Manhattan, which he started in 1989 with his wife, Kathy. For over twenty-five years he has led a diverse congregation of young professionals that has grown to a weekly attendance of over 5,000.

He is also Chairman of Redeemer City to City, which starts new churches in New York and other global cities, and publishes books and resources for faith in an urban culture. In ten years they helped to launch over 250 churches in 48 cities. More recently, Dr. Keller's books - including the New York Times bestselling The Reason for God, The Prodigal God, and Prayer: Experiencing Awe and Intimacy with God - have sold over 1 million copies and been translated into 15 languages.

Tim was born in 1950, raised in Pennsylvania, and educated at Bucknell University, Gordon-Conwell Theological Seminary, and Westminster Theological Seminary. He previously served as the pastor of West Hopewell Presbyterian Church in Hopewell, Virginia, Associate Professor of Practical Theology at Westminster Theological Seminary, and Director of Mercy Ministries for the Presbyterian Church in America.

Tim and his wife Kathy have three adult sons.
Customer Reviews For "The Prodigal God: Recovering the Heart of the Christian Faith"
Write Your Own Review
Great explanation of the prodigal son parable
By Angus,

Mar 29 2017
In this book Tim wonderfully emphasises through the parable of the two sons that all of us require God's grace, and that none of us can have a right relationship with him without it. Although the sin of the younger brother is obvious enough, one of the real benefits of this book is that Tim explores the typically-forgotten sin of the older brother and his legalistic ways. This is a fantastic book for personal reading or to go through in groups. It's well written (short, too!) and testifies faithfully and joyfully to God's great love. Highly recommend it. 

---
Rich Gospel Insights
By Ben,

Feb 27 2017
This book is a concise and penetrating look at Jesus' parable of the Prodigal Son (Luke 15). This parable is often misunderstood, but with his usual insight, Keller helps the reader to grasp what Jesus really meant, and to understand the gospel in its fullness - as something desperately needed by not only those who have strayed far from God, but also desperately needed by those who think they can earn his favour through 'religion'. 5 stars.
---
Insightful
By Mikey,

Jan 06 2017
Loved the way Keller dissects the passage and gives us a fresh and insightful look at the prodigal son parable. He recognises the need of putting the parable in it's rightful context to help us understand better the characters in the story and how the first audiencereader would have heard it, and how we today can relate to it. Totally recommend this book to everyone to read, especially if we have grown up in church and are just going through the movements. 
---
An Insightful and Helpful Book
By Dr. Bernard Low,

Nov 02 2016
In this book based on a very familiar parable, The Prodigal Son, Timothy Keller shares important insights which uncover the essential message of Jesus. Very often when one reads this parable, one thinks that it is the younger son who is lost. Keller, however, points out that the elder brother is equally lost even though he is in the Father's house. We may be moralistic, religious and church-going people, just like the elder brother, but we can still be lost. Regardless, whether we are the younger brother or the elder brother, God the Father is prodigal in His grace and love for both and reaches out to both alike. Keller has explained and expounded this parable in a way that makes it very relevant to and pertinent to church-going people - who think they are moralistic, spiritual, and dutiful but who may nonetheless remain lost. An insightful and important book to show how the Gospel applies to Christians and not just non-Christians! 
---
Brilliant!
By Jono,

Oct 14 2016
Timothy Keller has penned down his expository teaching series on the Parable of the Two Lost Sons. This is expository preaching near its best! Keller clearly outlines this parable in a way which is not only a great read but is sure to challenge your view of God, sin and salvation! 
{{review.title}}
By {{review.author.name}},

{{review.reviewCreatedDate | date:'MMM dd yyyy'}}

{{reviewdescription}}
{{review.text}}
---