The Progeny (#01 in Descendants Of The House Of Bathory Series)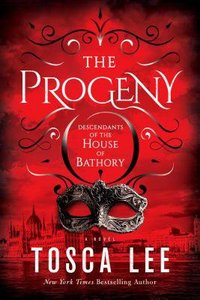 New York Times bestselling author Tosca Lee brings a modern twist to an ancient mystery surrounding the most notorious female serial killer of all time. A fast-paced thriller for fans of Lee's Books of Mortals series with Ted Dekker, Dan Brown's The Da Vinci Code, and BBC America's hit series Orphan Black.

Emily Porter is the descendant of a serial killer. Now, she's become the hunted.

She's on a quest that will take her to the secret underground of Europe and the inner circles of three ancient orders-one determined to kill her, one devoted to keeping her alive, and one she must ultimately save.

Filled with adrenaline, romance, and reversals, The Progeny is the present-day saga of a 400-year-old war between the uncanny descendants of "Blood Countess" Elizabeth Bathory, the most prolific female serial killer of all time, and a secret society dedicated to erasing every one of her descendants. A story about the search for self amidst centuries-old intrigues and Europe's underground scene...and one woman's mission to survive.

- Publisher
You May Also Be Interested In
About "The Progeny (#01 in Descendants Of The House Of Bathory Series)"
New York Times bestselling author Tosca Lee brings a modern twist to an ancient mystery surrounding the most notorious female serial killer of all time. A fast-paced thriller for fans of Lee's Books of Mortals series with Ted Dekker, Dan Brown's The Da Vinci Code, and BBC America's hit series Orphan Black.

Emily Porter is the descendant of a serial killer. Now, she's become the hunted.

She's on a quest that will take her to the secret underground of Europe and the inner circles of three ancient orders-one determined to kill her, one devoted to keeping her alive, and one she must ultimately save.

Filled with adrenaline, romance, and reversals, The Progeny is the present-day saga of a 400-year-old war between the uncanny descendants of "Blood Countess" Elizabeth Bathory, the most prolific female serial killer of all time, and a secret society dedicated to erasing every one of her descendants. A story about the search for self amidst centuries-old intrigues and Europe's underground scene...and one woman's mission to survive.
- Publisher


Meet the Author
Tosca Lee
Tosca Lee is author of the critically acclaimed and extensively-awarded novels "Demon: A Memoir "and "Havah: The Story of Eve". A sought-after speaker and former Mrs. Nebraska, she continues to work for local charities and as a senior consultant for a global consulting firm. Tosca holds a degree in English and International Relations from Smith College and also studied at Oxford University. She enjoys travel, cooking, history, and theology, and lives in Lincoln, Nebraska.
Other Titles In The "Descendants Of The House Of Bathory Series" Series