The Promise of Provision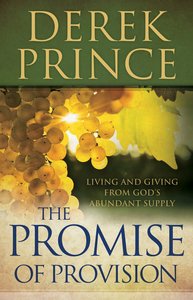 Beloved Bible Teacher Reveals the Secret to Receiving God's Abundance

In an age in which so many have so much, and most want more, what does the word abundance really mean? What does God have to say about it? And how can Chrisitians find and walk in it?

Respected author and teacher Derek Prince, with his trademark methodical approach, brings his wisdom and insight to the topic of God's abundance. He explains what abundance consists of and how believers can break the curse of poverty and step into a life of freedom. Prince also lays out the biblical conditions necessary to receiving this supernatural provision, giving Christians a practical guide to walking in God's generous abundance and Kingdom blessings.

- Publisher
You May Also Be Interested In
About "The Promise of Provision"
Beloved Bible Teacher Reveals the Secret to Receiving God's Abundance

In an age in which so many have so much, and most want more, what does the word abundance really mean? What does God have to say about it? And how can Chrisitians find and walk in it?

Respected author and teacher Derek Prince, with his trademark methodical approach, brings his wisdom and insight to the topic of God's abundance. He explains what abundance consists of and how believers can break the curse of poverty and step into a life of freedom. Prince also lays out the biblical conditions necessary to receiving this supernatural provision, giving Christians a practical guide to walking in God's generous abundance and Kingdom blessings.
- Publisher


Meet the Author
Derek Prince
Derek Prince was born in India of British parents in 1915. He was educated at Eton College and Cambridge University, England, where he held a Fellowship in Ancient and Modern Philosophy at King's College. While serving with the British army in World War II, he began to study the Bible and experienced a life-changing encounter with Jesus Christ. He then devoted his life to studying and teaching the Bible.


Derek Prince taught and ministered on six continents for over seven decades, imparting God's revealed truth, praying for the sick and afflicted, and sharing his prophetic insights into world events in the light of Scripture. His daily radio broadcast Derek Prince Legacy Radio (formerly Keys to Successful Living), reaches more than half the world. He was the author of over 80 books, over 600 audio teachings, and over 100 video teachings, many of which have been translated and published in other languages. Derek Prince died in 2003 in Jerusalem.