The Prophecy (#01 in The Watcher Chronicles Series)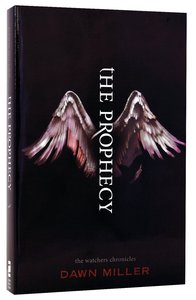 It was a night in St. Louis no one would forget. A freak hailstorm during the Mardi Gras parade ... strange pockets of wind smashing into revelers ... a sudden jump in crime across the city. But Jonah Becker and his ragtag friends would remember it as a night of tragedy - a night that once again forges them together by the curse - or gift - they are destined to carry. They are the Watchers - witnesses to the epic and otherwise invisible battle for souls that rages around us. Jonah, the handsome musician who lives from one party to another until a night that changes his life forever; Sam Becker, Jonah's older brother, kick-boxer, and artist, whose tortured visions lead him into a fatal web of deceit; Carly Hagan, successful young entrepreneur and rebel, who will have to see with her own eyes that her father's faith is not so blind; Jenna Moore, a young single mother who has made some mistakes - enough to draw her into the world of the occult for answers; and Jeremiah Harvey, known as "Big J" by his fellow gang members. Jeremiah is part of the "original five" who spent that long ago summer of their youth together--a summer they would all soon realize connected them by more than memories. It was their destiny.



- Publisher Remember these words well. It's only a thin veil that separates them from our world. As time grows near, they will return to make their war upon mankind. They will torment, attack, and cause destruction on this planet. They will never hunger; they will never sleep. They will walk amongst us unseen. Invisible to all but those born to see. And each generation of five that sees shall endure more than the last. But the final generation of Watchers will not only endure, not only watch... ...THEY WILL FIGHT.

- Publisher
You May Also Be Interested In
About "The Prophecy (#01 in The Watcher Chronicles Series)"
It was a night in St. Louis no one would forget. A freak hailstorm during the Mardi Gras parade ... strange pockets of wind smashing into revelers ... a sudden jump in crime across the city. But Jonah Becker and his ragtag friends would remember it as a night of tragedy - a night that once again forges them together by the curse - or gift - they are destined to carry. They are the Watchers - witnesses to the epic and otherwise invisible battle for souls that rages around us. Jonah, the handsome musician who lives from one party to another until a night that changes his life forever; Sam Becker, Jonah's older brother, kick-boxer, and artist, whose tortured visions lead him into a fatal web of deceit; Carly Hagan, successful young entrepreneur and rebel, who will have to see with her own eyes that her father's faith is not so blind; Jenna Moore, a young single mother who has made some mistakes - enough to draw her into the world of the occult for answers; and Jeremiah Harvey, known as "Big J" by his fellow gang members. Jeremiah is part of the "original five" who spent that long ago summer of their youth together--a summer they would all soon realize connected them by more than memories. It was their destiny.


- Publisher

Remember these words well. It's only a thin veil that separates them from our world. As time grows near, they will return to make their war upon mankind. They will torment, attack, and cause destruction on this planet. They will never hunger; they will never sleep. They will walk amongst us unseen. Invisible to all but those born to see. And each generation of five that sees shall endure more than the last. But the final generation of Watchers will not only endure, not only watch... ...THEY WILL FIGHT.
- Publisher


Meet the Author
Dawn Miller
Dawn Miller, a member of numerous Western associations, is an avid collector of classic Western literature, pioneer diaries, and journals. She made her debut with the historical novel "The Journal of Callie Wade, " which was followed by "Letters to Callie." Dawn lives in Tennessee. ý Dawn would love to hear from her readers. You may write to her c/o Pocket Books, Publicity Department, 1230 Avenue of the Americas, New York, NY 10020.