The Prophetic Made Personal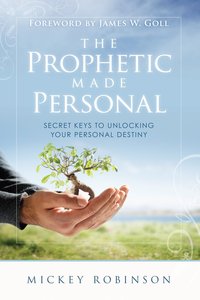 You Can Pray In Tongues is about as practical and easy as it gets. Written for the seeker, not for the intellectual, you will find this book will move this phenomenon into the realm of the reachable. Yes, praying in tongues is for everyone. God has so designed it. Everyone means you too. The book carefully reviews scripture and outlines step by step how to make praying in the spirit, a normal part of your Christian life. Additionally, it contains a brief history of praying in tongues through the ages as well as the remarkable experiences of children and young people. The grace of the Lord is abundantly lavished upon the seeker as he discovers the wonders and the miracle of praying in tongues.

- Publisher Although many may understand that God has established certain individuals as prophets, too few consider themselves in the same league. On the contrary, every believer can enter into new and fulfilling prophetic possibilities. Author Mickey Robinson provides biblical and historical background for the operation of prophetic gifts and also explains safeguards and practical methods for prophetic ministry.

- Publisher
You May Also Be Interested In
About "The Prophetic Made Personal"
You Can Pray In Tongues is about as practical and easy as it gets. Written for the seeker, not for the intellectual, you will find this book will move this phenomenon into the realm of the reachable. Yes, praying in tongues is for everyone. God has so designed it. Everyone means you too. The book carefully reviews scripture and outlines step by step how to make praying in the spirit, a normal part of your Christian life. Additionally, it contains a brief history of praying in tongues through the ages as well as the remarkable experiences of children and young people. The grace of the Lord is abundantly lavished upon the seeker as he discovers the wonders and the miracle of praying in tongues.
- Publisher

Although many may understand that God has established certain individuals as prophets, too few consider themselves in the same league. On the contrary, every believer can enter into new and fulfilling prophetic possibilities. Author Mickey Robinson provides biblical and historical background for the operation of prophetic gifts and also explains safeguards and practical methods for prophetic ministry.
- Publisher


Meet the Author
Mickey Robinson
After surviving severe burns ... resulting from an airplane crash while skydiving, Mickey Robinson had a Death's Door experience and spiritual rebirth that radically changed his life. For the past 25 years, Mickey has had a public ministry speaking in churches and to various groups of people. He shares the reality of God's power to change people's lives. Mickey presently serves as a Director of Prophetic Christian Ministries Association, President of the Lazarus Foundation, a care and discipleship center for the physically challenged, and Seagate Ministries. Seagate Ministries is located in Franklin, Tennessee, where Mickey resides with his wife Barbara and their children.