The Prophets of Israel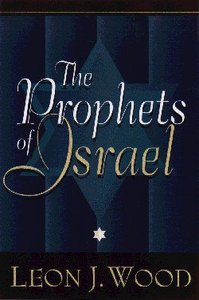 Wood focuses on the prophets' daily circumstances to illuminate their message. Covers both the writing and nonwriting prophets (e.g. Miriam and Elijah).

- Publisher 22 Chapters

- Publisher Leon J. Wood (1918-1977; Ph.D., Michigan State University) was professor of Old Testament at Grand Rapids Baptist Seminary for more than thirty years. He also wrote A Survey of Israel's History, Distressing Days of the Judges, Commentary on Daniel, and The Holy Spirit in the Old Testament.

- Publisher
You May Also Be Interested In
About "The Prophets of Israel"
Wood focuses on the prophets' daily circumstances to illuminate their message. Covers both the writing and nonwriting prophets (e.g. Miriam and Elijah).
- Publisher

22 Chapters
- Publisher

Leon J. Wood (1918-1977; Ph.D., Michigan State University) was professor of Old Testament at Grand Rapids Baptist Seminary for more than thirty years. He also wrote A Survey of Israel's History, Distressing Days of the Judges, Commentary on Daniel, and The Holy Spirit in the Old Testament.
- Publisher


Meet the Author
Leon J Wood
The late Leon Wood was professor of Old Testament Studies and Dean of the Grand Rapids Baptist Seminary.
Table Of Contents
Part One: Prophetism
1. identity
2. contemporary "prophets"
3. israel's Prophets Were Not Ecstatics
4. the Meaning Of "to Prophesy"
5. the Function Of The Prophet
6. the Holy Spirit And Prophecy
7. false Prophecy In Israel
8. a General Overview
part Two: The Prophets
section One: The Pre-monarchy Prophets
history Chart I
9. three Early Prophets
10. samuel
section Two: The Monarchy Prophets
history Chart Ii
11. the Reigns Of David, Solomon, And Jeroboam
12. the Reigns Of Rehoboam, Abijam, Asa, Jehoshaphat, And Baasha
13. the Reign Of Ahab: Elijah
14. the Reigns Of Ahab, Joash, And Amaziah
15. the Reigns From Jehoram To Jehoash: Elisha
section Three: The Writing Prophets
history Chart Iii
16. ninth-century Prophets: Obadiah And Joel
17. eighth-century Prophets: Hosea, Amos, And Jonah
18. eighth-century Prophets: Isaiah And Micah
19. seventh-century Prophets: Nahum, Zephaniah, And Habakkuk
20. seventh-century Prophets: Jeremiah
21. exilic Prophets: Daniel And Ezekiel
22. postexilic Prophets: Haggai, Zechariah, And Malachi