The Purple Book: Biblical Foundations For Building Strong Disciples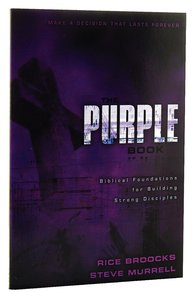 People of all ages, from all walks of life have "done The Purple Book". It's a 12-part Bible study designed to help new believers and long-time followers of Jesus stand firm and grow strong in the Christian life. Take the challenge to build the foundation of your life on God's Word!
You May Also Be Interested In
About "The Purple Book: Biblical Foundations For Building Strong Disciples"
People of all ages, from all walks of life have "done The Purple Book". It's a 12-part Bible study designed to help new believers and long-time followers of Jesus stand firm and grow strong in the Christian life. Take the challenge to build the foundation of your life on God's Word!
- Koorong

Have you done The Purple Book? From students and scholars to parents, kids, rock stars, and professional athletes, people all over the world are doing The Purple Book. Why? Because they're looking for a foundation that no storm in life will prevail againstand a heart that's shaped and guided by the knowledge of God's Word. The Purple Book is a twelve-part Bible study keyed to the TNIV and designed to help new believers and longtime followers of Jesus stand firm and grow strong in the Christian life. Take the challenge to build the foundation of your life on the Word of God. Do The Purple Book.

"I love The Purple Book. It continually helps reinforce the only foundation worth building upon a biblical one."
Peter Furler, newsboys

"The Purple Book has been instrumental in my growth as a believeran effective tool in helping me build the life that God has intended for me."
Mark Brunell, Washington Redskins
- Publisher


Meet the Authors
Rice Broocks
Broocks is the president of Morning Star International (MSI). He is the senior pastor of Bethel World Outreach Center in Nashville, Tennessee.
Steve Murrell
Steve Murrell is the senior pastor of Victory Metro in Manila, Philippines; a director of the Real Life Foundation; and the cofounder and president of Every Nation, a worldwide family of churches and ministries. Victory Metro Manila meets in thirteen different locations and has planted churches in forty other Philippine cities and a dozen nations. Real Life Foundation is a social and educational advocacy organization that exists to serve the poor and improve their lives through educational assistance, character development, and community service. Steve and his wife, Deborah, first went to the
Excerpt
Excerpt from: The Purple Book: Biblical Foundations For Building Strong Disciples
C H A P T E R O N E SIN and SALVATION In the beginning God created the heavens and the earth... through him all things were made; without him nothing was made that has been made...all things have been created by him and for him. -- Genesis 1:1; John 1:3; Colossians 1:16 (TNIV) The earth, humanity---all that we see around us had a beginning. God declared each phase of creation 'good'---until he created the first man Adam and said it was 'not good' for him to be alone. So Eve, the first woman, was created, and the original couple was given everything to enjoy. They were only forbidden to eat the fruit of one tree: the 'tree of the knowledge of good and evil.' The fatal decision that followed and its tragic results have affected all of human history. Humanity would pass down this fatal flaw, this inner corruption from generation to generation. The power of evil and darkness would have prevailed...except for God's intervention. His plan of salvation deliverance from evil's power began to unfold in that very garden of Eden. This is the primary story of the entire Bible. 1. What was creation like in the beginning? Genesis 1 v. 10 v. 12 v. 18 v. 21 v. 25 2. How many commands did God give Adam and Eve? Genesis 2:17 3. What was God's command to the first human beings? Genesis 2:16-17 Read Genesis 3:1-13 to find out what happened next. 4. How did Adam and Eve respond to God's command? 5. In light of this, do you think you would have responded any differently? Think about what God attempted to shield Adam and Eve from: the knowledge of evil. What loving parent today doesn't do everything they can to protect their children from dangerous material---on television, on the Internet or anywhere else? 6. Who tempted Eve? Who is the serpent? None other than the devil himself, also known as Satan. Satan is not God's equal or exact opposite; he is a created being who rebelled against God. In Genesis 3, he brings down Adam and Eve as part of his continued rebellion. Revelation 12:9 and 20:2 specifically refer to Satan as the 'ancient serpent.' Adam and Eve ate the forbidden fruit---in essence saying to God, 'We don't need you or your rules.' They disobeyed God. They sinned. 7. How did Adam and Eve react after their eyes were opened and they realized they were naked? v. 7 v. 8 v. 10 8. Why do you think they reacted this way? 9. How did God respond to Adam and Eve's sin? v. 8-9 Notice the two very different responses to humanity's sin: * Humanity covered up and hid from God. * God sought humanity. Things have not changed much since the beginning. After thousands of years and billions of people, human beings still hide from God... and God still seeks. This is the starting point for understanding salvation. Personal Reflection What did you learn from this lesson? How will you apply it to your life? What questions did it raise? What did it teach you about God and your relationship with him? The act of disobeying God is called sin. One definition of sin is to 'miss the mark,' like when you fail to hit the target in a sporting event. Obviously the Bible's understanding of sin is much more serious than that. In fact, Scripture has a few different ways of expressing this idea. Sin is sometimes described as a 'trespass,' something that involves crossing forbidden lines or boundaries that God sets up for our protection. The concept of 'iniquity' speaks of sin's most troubling and destructive result: to twist and pervert our inner nature. This is gravely serious because the Bible says God's nature is 'holy'---that is, completely free from evil or defect, absolutely pure in love and goodness. 1. What state does the Bible describe us as being in? Ephesians 2:1 2. Why ultimately is our sin so serious to God? Leviticus 11:44 3. What does iniquity do to our relationship with God? Isaiah 59:1-2 4. Describe sinful humanity's desperate condition. Romans 3:9-20, 23 5. Describe the impact sin has on our heart. Jeremiah 17:9 6. What are the 'wages' of sin? Romans 6:23 7. What does the Bible say happens immediately after we die? Hebrews 9:27 8. What does Paul, the writer of Romans, call himself? Romans 7:24 In Romans 7, Paul describes his own state and cries out on behalf of all humanity with the most important question ever asked: 'Who will rescue me from this body of death?' Humanity's deepest need is for salvation---not just from the evil in the world, but from the evil in our own hearts. Personal Reflection Obviously God takes sin very seriously. What about you? What do you think you deserve for your sin? GOD'S SOLUTION FOR SIN: JESUS' DEATH AND RESURRECTION The penalty for sin is death, both spiritual and physical. God's ultimate solution for sin was foreshadowed in the original story. After they sinned, Adam and Eve tried to hide themselves with their own covering---and humanity has been hiding from God ever since. God, however, provided the real covering, and he did so by spilling the blood of an innocent animal. The concept of sacrifice (the idea that because of sin, someone has to pay the penalty) is seen throughout the Bible. Sin was only forgiven as a result of shedding blood, a sacrifice offered in the place of sinful human beings. The sacrifice had to be one without defect. 1. What is necessary for the forgiveness of sins? Hebrews 9:22 2. How did God cover Adam and Eve's first sin? Genesis 3:21 3. How were 'unclean' things made 'clean'? Hebrews 9:22 4. Can the blood of animals ultimately take away our sins? Hebrews 10:4 Read Isaiah 53. 5. Why would the promised Savior be 'pierced'? Isaiah 53:5 6. How does the prophet Isaiah say we will be healed? Isaiah 53:5 7. How did the John the Baptist, the last great prophet before Jesus, introduce Jesus publicly? John 1:29 8. What did the prophet Isaiah predict that the Savior would do? Isaiah 53:6 9. What Jesus' blood---his sacrificial death---do for us? Romans 5:9 Ephesians 1:7 Ephesians 2:13 1 John 1:7 Revelation 1:5 10. What did Jesus do for us on the cross? 1 Peter 2:24 1 Corinthians 15:3-4 2 Corinthians 5:21 Galatians 3:13-14 'The one and only Son, who is himself God and is in closest relationship with the Father...' -- John 1:18 Jesus is more than just another great teacher or miracle worker. The Bible teaches clearly that he is God in the flesh (John 1:1-18). Jesus calls himself the Son of God at least three times (John 5:25; 10:36; 11:4). His followers recognize him as the one true God (John 20:28). It is because Jesus is God that he can save us from our sin. 11. According to the Bible, what makes Jesus unique that he can do all this for us? John 1:18 Acts 2:26 Colossians 1:15-20 Hebrews 4:15 Jesus' blood---his sacrificial death---is God's solution for humanity's sin. He pays the penalty for your sin. He wants to wipe the slate clean---forgiveness. But Jesus didn't just stay in the grave. He rose from the dead. 12. What is the significance of Jesus' resurrection? What if there was no resurrection? 1 Corinthians 15:14-19 v. 14 v. 15 v. 16 v. 17 v. 18 v. 19 What makes God's gift of grace so costly is that Jesus paid for it with his life. What makes it so powerful is that he came back from the dead---proving that he is the Son of God and showing that God accepted his sacrifice as payment for our sin. 'He was delivered over to death for our sins and was raised to life for our justification.' -- Romans 4:25 (TNIV)
Customer Reviews For "The Purple Book: Biblical Foundations For Building Strong Disciples"
Write Your Own Review
A popular book
By Jo,

Oct 18 2017
The Purple Book is suited for everyone, whether they be people new to Christianity or those who have been a Christian for a long time. I was recommended this book by a friend and now I can see why it has been so popular. I really like that it splits the bible study into 12 parts. I found the topics very relevant to our everyday life. I also like that there is a review at the end of the chapters. 
---
Perfect for all stages of your Christian walk
By Michelle,

Oct 26 2016
I purchased this book a few months ago on a friend's recommendation and love it! It's such a great resource for affirming or reaffirming our spiritual foundations. It has twelve studies each split into four or five smaller lessons. All coming together to increase our understanding and lead us to a deeper relationship with God.
---
Excellent Resource
By Raj,

Aug 14 2012
We used this book over the course of 2 years with our Young Adults Ministry (18-25) and it was great! It's very detailed, always leads you back to scripture, very balanced in it's theology, and cut up into bit size chunks to let you do it at your own pace.

What I love is that it almost always requires you to have a look at the context of the verse to form a healthy theology, rather than just isolating verses which a lot of other studies I've seen do. I've even used it to form sermon outlines!

This is an excellent tool for discipleship (maybe after doing an Alpha course?) for both new believers, and to help those who've grown up with a familiarity with Christianity but missing the fervent desire for God to be trained well in the Word.
---
Essential Reading
By David Hillier,

Nov 15 2007
This is a must read for every Christian.
 
It doesn't matter if you are a new Christian or have been a Christian for yrs, this book is essential to you.
 
It has the Biblical Foundations for building strong Disciples.

It covers everything that you need to know, from Sin & Salvation to Resurrection & Judgement & everything in between.

At the end of each Chapter there are lessons that you can do & review what you have learnt. 

After reading this book & doing the lessons you will have a more indepth understanding of what is needed in the Christian Walk and will be a stronger disciple.





{{review.title}}
By {{review.author.name}},

{{review.reviewCreatedDate | date:'MMM dd yyyy'}}

{{reviewdescription}}
{{review.text}}
---