The Purpose and Power of Love and Marriage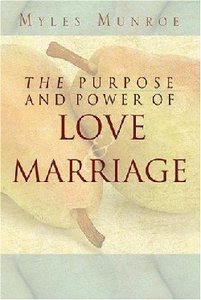 Probably no other dimension of human experience has been pondered, discussed, debated, analyzed, and dreamed about more than the nature of true love. Love is everywhere -- in songs and in books, on televisions and on movie screens. Yet, for all of our thinking and talking, how many of us truly understand love and where can we turn for genuine insight in matters of true love?

- Publisher 258 Pages

- Publisher
You May Also Be Interested In
About "The Purpose and Power of Love and Marriage"
Probably no other dimension of human experience has been pondered, discussed, debated, analyzed, and dreamed about more than the nature of true love. Love is everywhere -- in songs and in books, on televisions and on movie screens. Yet, for all of our thinking and talking, how many of us truly understand love and where can we turn for genuine insight in matters of true love?
- Publisher

258 Pages
- Publisher


Meet the Author
Myles Munroe
Dr. Myles Munroe (1954-2014) was an ordained Pentecotal minister, the Founder, President, and Senior Pastor of Bahamas Faith Ministries International, an all-encompassing network of ministries headquartered in Nassau, Bahamas. He was a multi-gifted international motivational speaker, prolific best-selling author and sought-after business consultant. His books and presentations comprehensively address many aspects of human, social and spiritual development.