The Pursuit of Holiness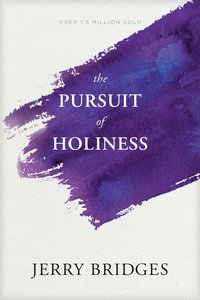 This new edition replaces both The Pursuit of Holiness and the separate study guide by combining both resources into one volume!

"Be holy, for I am holy," commands God. But holiness is something that is often missed in the Christian's daily life. According to Navigator author Jerry Bridges, that's because we're not exactly sure what our part in holiness is. In The Pursuit of Holiness, he helps us see clearly just what we should rely on God to do-and what we should take responsibility for ourselves. As you deepen your relationship with God, learn more about His character, and understand the Holy Spirit's role in holiness, your spiritual growth will mature.

The included study guide contains 12 lessons.

- Publisher
You May Also Be Interested In
About "The Pursuit of Holiness"
This new edition replaces both The Pursuit of Holiness and the separate study guide by combining both resources into one volume!

"Be holy, for I am holy," commands God. But holiness is something that is often missed in the Christian's daily life. According to Navigator author Jerry Bridges, that's because we're not exactly sure what our part in holiness is. In The Pursuit of Holiness, he helps us see clearly just what we should rely on God to do-and what we should take responsibility for ourselves. As you deepen your relationship with God, learn more about His character, and understand the Holy Spirit's role in holiness, your spiritual growth will mature.

The included study guide contains 12 lessons.
- Publisher


Meet the Author
Jerry Bridges
Jerry Bridges is one of the most widely recognized and trusted Christian writers today. The former vice-president for corporate affairs of The Navigators, he continues to serve as a Navigators staff member, ministering to college students, churches, and other groups around the world. His first book, The Pursuit of Holiness, is a modern classic with sales over one million copies. He is also the author of I Exalt You, O God, The Practice of Godliness, Trusting God, Transforming Grace, The Discipline of Grace (winner of the ECPA Gold Medallion award), and The Joy of Fearing God.