The Quick-Reference Guide to Counseling Teenagers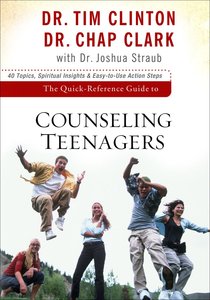 Youth culture changes rapidly, so those in the position to counsel teens often find themselves ill-informed and ill-prepared to deal with the issues that teens routinely encounter today. The Quick-Reference Guide to Counseling Teenagers provides the answers. It is an A-Z guide for assisting people-helpers--pastors, professional counselors, youth workers, and everyday believers--to easily access a full array of information to aid them in (formal and informal) counseling situations. Each of the 40 topics covered follows a helpful eight-part outline and identifies: (1) typical symptoms and patterns, (2) definitions and key thoughts, (3) questions to ask, (4) directions for the conversation, (5) action steps, (6) biblical insights, (7) prayer starters, and (8) recommended resources.

- Publisher
You May Also Be Interested In
About "The Quick-Reference Guide to Counseling Teenagers"
Youth culture changes rapidly, so those in the position to counsel teens often find themselves ill-informed and ill-prepared to deal with the issues that teens routinely encounter today. The Quick-Reference Guide to Counseling Teenagers provides the answers. It is an A-Z guide for assisting people-helpers--pastors, professional counselors, youth workers, and everyday believers--to easily access a full array of information to aid them in (formal and informal) counseling situations. Each of the 40 topics covered follows a helpful eight-part outline and identifies: (1) typical symptoms and patterns, (2) definitions and key thoughts, (3) questions to ask, (4) directions for the conversation, (5) action steps, (6) biblical insights, (7) prayer starters, and (8) recommended resources.
- Publisher


Meet the Authors
Tim Clinton
Dr. Tim Clinton,(Ed.D., The College of William and Mary, LPC, LMFT) is president of the American Association of Christian Counselors. He is professor of Counseling and Pastoral Care at Liberty University and is executive director of the Liberty University Center for Counseling and Family Studies
Dr Clinton is the Executive Editor and co-author of Caring for People God's Way: A New Guide to Christian Counseling and Competent Christian Counseling: Foundations and Practice of Compassionate Soul Care.
He was Executive Editor and a primary writer for The Soul Care Bible and the author of Attachments: Unlock the Secret to Loving and Being Loved; Why You Do the Things You Do: The Secret to Healthy Relationships, Loving Your Child Too Much: Staying Close to your Kids without Overprotecting, Overindulging, or Overcontrolling and Turn Your Life Around: Breaking Free from Your Past and Discovering God's Dream for You.
Chap Clark
Chap Clark (Ph.D., University of Denver) is professor of Youth, Family and Culture at Fuller Theological Seminary and is director of youth ministry programs. Chap is also the executive administrator at Glendale (California) Presbyterian Church, a youth ministry volunteer for Young Life, and a consultant to schools, denominations, and parachurch organizations.
His publishing credits include The Youth Worker's Handbook to Family Ministry; Daughters and Dads: Building a Lasting Relationship (coauthor); Four Views of Youth Ministry and the Church (coauthor); Deep Ministry in a Shallow World (2006, co-authored with Kara Powell), and Hurt: Inside the World of Todays Teenagers (2004, 2011) a CBA finalist for Book of the Year, available in Spanish and Cantonese),