The Ragamuffin Gospel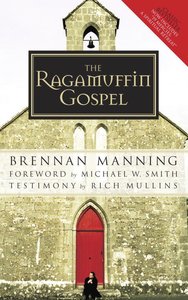 Are you bedraggled, beat-up, burnt-out?

Most of us believe in God's grace-in theory. But somehow we can't seem to apply it in our daily lives. We continue to see Him as a small-minded bookkeeper, tallying our failures and successes on a score sheet.

Yet God gives us His grace, willingly, no matter what we've done. We come to Him as ragamuffins-dirty, bedraggled, and beat-up. And when we sit at His feet, He smiles upon us, the chosen objects of His "furious love."

Brennan Manning's now-classic meditation on grace and what it takes to access it-simple honesty-has changed thousands of lives. Now with a Ragamuffin's thirty-day spiritual journey guide, it will change yours, too.

Includes a 30-Day Spiritual Journey Guide!

"Brennan Manning does a masterful job of blowing the dust off of shop-worn theology and allowing God's grace to do what only God's grace can do-amaze."
-Max Lucado, Bestselling author of The Gift for All People

- Publisher
You May Also Be Interested In
About "The Ragamuffin Gospel"
Are you bedraggled, beat-up, burnt-out?

Most of us believe in God's grace-in theory. But somehow we can't seem to apply it in our daily lives. We continue to see Him as a small-minded bookkeeper, tallying our failures and successes on a score sheet.

Yet God gives us His grace, willingly, no matter what we've done. We come to Him as ragamuffins-dirty, bedraggled, and beat-up. And when we sit at His feet, He smiles upon us, the chosen objects of His "furious love."

Brennan Manning's now-classic meditation on grace and what it takes to access it-simple honesty-has changed thousands of lives. Now with a Ragamuffin's thirty-day spiritual journey guide, it will change yours, too.

Includes a 30-Day Spiritual Journey Guide!

"Brennan Manning does a masterful job of blowing the dust off of shop-worn theology and allowing God's grace to do what only God's grace can do-amaze."
-Max Lucado, Bestselling author of The Gift for All People
- Publisher


Meet the Authors
Brennan Manning
Brennan Manning has spent the past 40 years helping others experience the reality of God's love and grace. It's at the heart of everything he's written and done. A recovering alcoholic and former Franciscan priest, his spiritual journey has taken him down a variety of paths. He has taught seminarians, spoken to packed arenas, lived in a cave and labored with the poor in Spain, and ministered to shrimpers in Alabama. He currently resides in New Orleans, Louisiana.
Brennan is best known as the author of the contemporary classics The Ragamuffin Gospel; Abba's Child; Ruthless Trust, and The Importance of Being Foolish. Most recently he has produced Patched Together and The Furious Longing of God.
Michael W Smith (Fwd)
Michael W. Smith has been a popular figure since his debut in christian music in 1982. Smith has been awarded six Gold records, four consecutive Gold albums, two Grammy awards and six Dove awards. He resides in Nashville with his wife and five children.