The Rapture (Prequel #03) (#00C in Left Behind Series)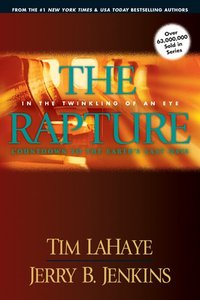 The final prequel will have the Rapture three-quarters of the way through the book and then following characters such as Irene and Raymie (and others) up to heaven and being able to see events in the Tribulation from heavens perspective. The book will alternate between focusing on events on earth immediately after the Rapture (covering lots of things the authors wished they could have covered in the original volumes) and focusing on characters in heaven and how they view the chaotic events on earth. Now available in trade paper.

- Publisher Time seems to slow as the clock ticks down. . . . Pan-Con Airlines captain Rayford Steele prepares for a flight to London with beautiful flight attendant Hattie Durham. Because of his wife - A?A?s newfound faith, Rayford looks forward to time - A?A?and the possibilities - A?A?with Hattie. Journalist Cameron - A?A?Buck - A?A? Williams is in Israel when the Russians attack and experiences for himself the miraculous deliverance of the Holy Land. Buck cannot deny Chicago bureau chief Lucinda Washington - A?A?s insistence that the event was prophesied in Scripture, though he dares not consider the personal ramifications. Meanwhile, Nicolae Carpathia eliminates any obstacles in his path to power. As the newly appointed president of Romania, Nicolae is invited to speak before the U.N. Without warning, millions disappear and are welcomed into the unspeakable presence of God. On earth some realize what has happened . . . what they - A?A?ve lost . . . what they - A?A?ve missed. And the darkest days lie ahead for those left behind.

- Publisher
You May Also Be Interested In
About "The Rapture (Prequel #03) (#00C in Left Behind Series)"
The final prequel will have the Rapture three-quarters of the way through the book and then following characters such as Irene and Raymie (and others) up to heaven and being able to see events in the Tribulation from heavens perspective. The book will alternate between focusing on events on earth immediately after the Rapture (covering lots of things the authors wished they could have covered in the original volumes) and focusing on characters in heaven and how they view the chaotic events on earth. Now available in trade paper.
- Publisher

Time seems to slow as the clock ticks down. . . . Pan-Con Airlines captain Rayford Steele prepares for a flight to London with beautiful flight attendant Hattie Durham. Because of his wife - A?A?s newfound faith, Rayford looks forward to time - A?A?and the possibilities - A?A?with Hattie. Journalist Cameron - A?A?Buck - A?A? Williams is in Israel when the Russians attack and experiences for himself the miraculous deliverance of the Holy Land. Buck cannot deny Chicago bureau chief Lucinda Washington - A?A?s insistence that the event was prophesied in Scripture, though he dares not consider the personal ramifications. Meanwhile, Nicolae Carpathia eliminates any obstacles in his path to power. As the newly appointed president of Romania, Nicolae is invited to speak before the U.N. Without warning, millions disappear and are welcomed into the unspeakable presence of God. On earth some realize what has happened . . . what they - A?A?ve lost . . . what they - A?A?ve missed. And the darkest days lie ahead for those left behind.
- Publisher


Meet the Authors
Tim Lahaye
Dr. Tim LaHaye is the creator and co-author of the Left Behind series and is also a noted scholar of Biblical prophecy, an internationally known author, a minister, and an educator. He is the founder and president of Tim LaHaye Ministries. Dr. LaHaye and his wife, Beverly, live in southern California.
Jerry Jenkins
Jerry B. Jenkins, former Vice President for Publishing and currently Writer-at-Large for the Moody Bible Institute of Chicago, is the author of more than 150 books, including the best-selling Left Behind series. Sixteen of his books have reached the New York Times best-seller list and have also appeared on the USA Today, Publishers Weekly and Wall Street Journal best-seller lists. Desecration, book #9 in the Left Behind series was the best-selling novel in America in 2001. Also the former editor of Moody Magazine, his writing has appeared in dozens of Christian periodicals.His non-fiction includes as-told-to biographies of such notable men as Bill Gaither. He helped Dr. Billy Graham with his memoirs, Just As I Am, also a New York Times best seller. Jerry owns Jenkins Entertainment, a filmmaking company in Los Angeles, which produced the critically-acclaimed movie Hometown Legend based on his book of the same name. Jerry Jenkins also owns the Christian Writers Guild, which aims to train tomorrow's professional Christian writers.Under Jerry's leadership, the Guild is steadily expanding its services to include a writers' advocacy centre, college credit courses, a critique service, literary registration services, and writing contests. As a marriage and family author and speaker, Jenkins has been a frequent guest on Dr. James Dobson's Focus On the Family radio program.Jerry and his wife Dianna have three grown sons and three grandchildren. - Publisher.
Other Titles In The "Left Behind Series" Series View All
$37.99




Order now to secure your copy when our stock arrives. Other edition is available. 9781414334943 0 Available. Expected to ship in 5 to 6 weeks from Australia.

Formats

$16.13

Nett


Available for immediate download.