The Real Heaven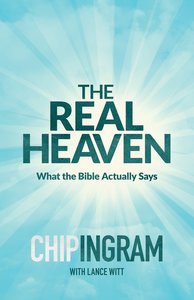 Heaven has received a lot of attention in recent years as bestselling books and movies have told the stories of people who claim to have been there. But what does the Bible actually say about heaven? What difference does it make? What happens the moment after we die? What will our relationships be like in heaven?

Chip Ingram sets aside the hype and myths and digs into the Scriptures to discover what God actually wants us to know about the hereafter. Most importantly, Ingram shows why our understanding of heaven matters now, in this life. Because what we believe about heaven actually affects us today in ways we may not have imagined.

- Publisher
You May Also Be Interested In
About "The Real Heaven"
Heaven has received a lot of attention in recent years as bestselling books and movies have told the stories of people who claim to have been there. But what does the Bible actually say about heaven? What difference does it make? What happens the moment after we die? What will our relationships be like in heaven?

Chip Ingram sets aside the hype and myths and digs into the Scriptures to discover what God actually wants us to know about the hereafter. Most importantly, Ingram shows why our understanding of heaven matters now, in this life. Because what we believe about heaven actually affects us today in ways we may not have imagined.
- Publisher


Meet the Authors
Chip Ingram
Chip Ingram is the President and Teaching Pastor for Living on the Edge, an international teaching and discipleship ministry. His passion is to help everyday Christians actually "live like Christians" by raising the bar of discipleship. A pastor for over twenty years, Chip has a unique ability to communicate truth and winsomely challenge people to live out their faith. Chip is author of nine books, including God: As He Longs for You to See Him; The Invisible War; Love, Sex, and Lasting Relationships; Good to Great in God's Eyes: 10 Practices Great Christians Have in Common and most recently Overcoming Emotions That Destroy: Practical Help for Those Angry Feelings That Ruin Relationships
Lance Witt
Founder of Replenish Ministries, Lance Witt is often called a "pastor's pastor." He has served for over thirty years as a pastor, twenty as a senior pastor. He also served as an executive and teaching pastor at Saddleback Church. Lance helped develop and lead the 40 Days of Purpose and 40 Days of Community campaigns. He and his wife, Connie, have two married children and love doing ministry together.Founder and leader of Replenish Ministries, Lance Witt has served for over twenty-five years as a local church pastor and twenty years as a senior pastor. He served as an executive pastor for Saddleback Church and helped develop and lead the 40 Days of Purpose and 40 Days of Community campaigns. He teaches at national and international conferences on topics such as small groups, spiritual formation, preaching, and leadership. Lance has an MDiv from Criswell Seminary and a DMin from Denver Seminary and lives with his wife, Connie, in Texas.