The Real Win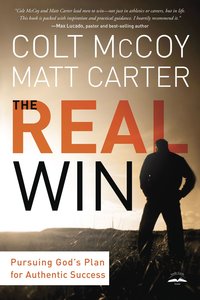 &"I can't speak highly enough about the way this book addresses manhood in our culture. Biblically challenging and radically applicable, it honestly addresses the deepest longings and fears a man faces.&"   --Matt Chandler
 
Prepare for a paradigm-shifting view of biblical manhood.
 
Every man wants to succeed. But for so many, life seems to get in the way. We all have friends&-good men, followers of Christ even&-who start out well but before long, they&'re failing at relationships, bending ethical standards, or driving
themselves so hard at work they&'re losing the hearts of their wife and kids.
 
In The Real Win, Colt McCoy and Matt Carter wrestle deeply and personally with this challenge, then deliver down-to-earth, biblical answers. Based on their personal experiences and a close study of Scripture, McCoy and Carter show men:
 
• Why so
- Publisher
You May Also Be Interested In
About "The Real Win"
&"I can't speak highly enough about the way this book addresses manhood in our culture. Biblically challenging and radically applicable, it honestly addresses the deepest longings and fears a man faces.&"   --Matt Chandler
 
Prepare for a paradigm-shifting view of biblical manhood.
 
Every man wants to succeed. But for so many, life seems to get in the way. We all have friends&-good men, followers of Christ even&-who start out well but before long, they&'re failing at relationships, bending ethical standards, or driving
themselves so hard at work they&'re losing the hearts of their wife and kids.
 
In The Real Win, Colt McCoy and Matt Carter wrestle deeply and personally with this challenge, then deliver down-to-earth, biblical answers. Based on their personal experiences and a close study of Scripture, McCoy and Carter show men:
 
• Why so
- Publisher
Meet the Authors
Colt Mccoy
Colt McCoy, a third-round draft pick of the Cleveland Browns, quarterbacked his University of Texas team to the 2010 BCS national championship game. The 2008 Heisman trophy runner-up, McCoy is a member of the Church of Christ, has been involved in domestic and foreign ministries, and married in the summer of 2010.
Matt Carter
Matt Carter is the senior pastor of Austin Stone Community Church in Austin, Texas, one of the fastest growing churches in America. Matt currently lives in Austin with his wife, Jennifer, and his three children, John Daniel, Annie, and Samuel.
Excerpt
Excerpt from: The Real Win
It&'s Time to Redefine Winning

Guys, quick! Can you name who won last year&'s&...
• Super Bowl?
• World Series?
• NBA Finals?
• Daytona 500?
• PGA Tour Championship?

How did you do?

If you&'re like a lot of guys, you&'re probably surprised by how few of the winners you can recall, especially considering what a big deal those championships felt like to a lot of people at the time.

Inside each man is a desire to set goals and achieve them, to get ahead and finish strong. And God Himself put a desire within us to drive hard and live with excellence. But things can go terribly wrong as we pursue our goals, can&'t
they?

So many men start out to achieve what they think is the real win, but at the end of their lives they feel a sense of defeat, even though they achieved everything they set out to win. They think they&'re achieving