The Redemption of Sarah Cain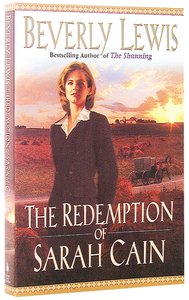 Sarah had ridiculed her sister's choice of an Amish lifestyle. Now she is stunned to hear of Ivy's death and baffled to find she has been chosen as guardian to her five nieces and nephews. Can the sorrow that divides them ultimately unite and heal the new family? From Bethany
You May Also Be Interested In
About "The Redemption of Sarah Cain"
Sarah had ridiculed her sister's choice of an Amish lifestyle. Now she is stunned to hear of Ivy's death and baffled to find she has been chosen as guardian to her five nieces and nephews. Can the sorrow that divides them ultimately unite and heal the new family? From Bethany
- Koorong

31 Chapters
- Publisher

Her future, and the lives of her young siblings, is in the hands of a fancy "Englischer" from Portland...Sarah Cain Lydia Cottrell, eldest of five Amish orphans, made a promise to her dying mother to "keep the family together." But soon she discovers that guardianship has been granted to a virtual stranger-a well-to-do aunt from Portland, Oregon, who cares little for Mamma's last wish. Lydia's struggle to keep the promise may cost her the loss of "the sweetest, kindest, and most handsome Plain boy in all of Lancaster County"-Levi King. A thoroughly modern woman, Sarah Cain had ridiculed her sister's choice of a Plain life-style, which served only to intensify the lifelong rift between them. Now, twelve years later, Sarah is stunned by news of her sister's death and baffled by Ivy's choice of a guardian. How can Sarah sacrifice her successful career and a life she enjoys to raise five Amish orphans? And what of Bryan Ford, the man in her life? Upon her arrival in Lancaster County, Sarah holds a grief all her own-one very different from the suffering of her nieces and nephews. Can the sorrow that divides them ultimately unite the new family? Will Sarah discover that Lancaster County's Amish community is not only a simpler place, but also a healing place?
- Publisher

Stunned by the news of her sister's and her brother-in-law's deaths, Sarah Cain journeys to Lancaster County to claim her five orphaned nieces and nephews, who have been brought up as members of the Amish community.
- Publisher


Meet the Author
Beverly Lewis
Beverly Lewis was born Beverly Marie Jones in 1949, in Lancaster, Pennsylvania, and grew up in the heart of 'Pennsylvania Dutch' country. She played and composed on the piano and wrote avidly from a very young age. Beverly's father was an Assemblies of God pastor, and she was raised in that denomination. However, she became fascinated with her ancestral links to the Old Order Mennonite community into which her maternal grandmother, Ada Buchwalter, had been born. Beverly's deep affinity for her Amish heritage has inspired much of her prodigious literary output - over eighty books for both children and adults.

Beverly graduated from Evangel University with a degree in Music Education, and became a schoolteacher. When her own three children were middle school age, Beverly began submitting stories to children's magazines. Her first book Mountain Bikes and Garbanzo Beans was published in 1993.

Beverly's first adult fiction, published in 1997, was the Heritage of Lancaster County trilogy, about the experiences of a young Amish woman Katie Lapp as she moves from the plain traditions of her upbringing into the modern world. Beverly has followed this award-winning bestseller with a stream of popular titles that have established her as one of our time's most beloved storytellers. Her titles include the Cul-De-Sac Kids, the Girls Only (GO!), and the Holly's Heart series for children, and the Amish based Rose, Seasons of Grace, Abram's Daughter, The Courtship of Nellie Fisher, and Annie's People series. She has received numerous awards including two Silver Angel Awards for her novels The Postcard and Annika's Secret Wish, and a Golden Book Award for The Shunning, the first volume of her Heritage of Lancaster County series.

Beverly is a member of the National League of American Pen Women as well as a Distinguished Alumnus of Evangel University. She says of her leisure:

"When I'm between writing deadlines, I enjoy hiking in the Rocky Mountains with my husband. Cooking from scratch, playing Mozart at the piano, and making family memory albums, as well as traveling to meet my devoted readers during book tours, are some of my very favorite things. I also adore reading biographies and memoirs, as well as classic literature."

She makes her home with her husband David in Colorado. In addition to their three adult children, they have three grandchildren.