The Relentless Tenderness of Jesus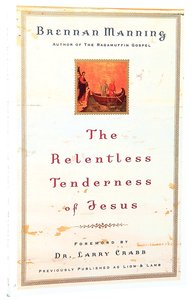 Is God a wrathful judge? A gentle healer? A Father? Brother? Friend?

In THE RELENTLESS TENDERNESS OF JESUS, Brennan Manning brings you to a deeper understanding of the true nature of God. Through poignant and unforgettable stories and challenging observations, Manning helps you stretch your mind and reject simplistic explanations of who God really is. With rich insights you'll see how God can at once be a roaring lion, pacing the globe and seeking you out; and simultaneously a tender lamb, there to comfort you in any time of need.

A unique experience, this book will forever change the way you think about God.


- Publisher Grant Borrows' life has just taken a drastic left turn. There's another man in the world wearing his face and living his life. What's more, the man he sees in the mirror is a stranger. Somehow, he's been Shifted -- his whole life fundamentally altered, in the space of a single breath. But the changes don't stop at skin-level. Inexplicably, he's able to affect objects around him by simply thinking about them. And as he soon learns, he's become the central figure in a vast web of intrigue that stretches from an underground global conspiracy to a prophecy dating back over seven thousand years, that tells of his coming. Enemies and allies find him at every turn, but one thing they all learn very quickly is that you don't want to push Grant Borrows too far... Can destiny be undone? The players are ready. The game is in motion. And the pace is Relentless. In the allegorical tradition of Tolkien and Lewis comes a powerful new myth for a new generation.

- Publisher Discover two very different sides of God! Peruse the pages of this book of insightful meditations and you'll encounter Christ's explosive power and his incredible tenderness. You will be forever changed as Manning calls you to "adopt the astonishing life of a committed disciple." Perceptive writing flavored with tough-love honesty.

- Publisher
You May Also Be Interested In
About "The Relentless Tenderness of Jesus"
Is God a wrathful judge? A gentle healer? A Father? Brother? Friend?

In THE RELENTLESS TENDERNESS OF JESUS, Brennan Manning brings you to a deeper understanding of the true nature of God. Through poignant and unforgettable stories and challenging observations, Manning helps you stretch your mind and reject simplistic explanations of who God really is. With rich insights you'll see how God can at once be a roaring lion, pacing the globe and seeking you out; and simultaneously a tender lamb, there to comfort you in any time of need.

A unique experience, this book will forever change the way you think about God.

- Publisher

Grant Borrows' life has just taken a drastic left turn. There's another man in the world wearing his face and living his life. What's more, the man he sees in the mirror is a stranger. Somehow, he's been Shifted -- his whole life fundamentally altered, in the space of a single breath. But the changes don't stop at skin-level. Inexplicably, he's able to affect objects around him by simply thinking about them. And as he soon learns, he's become the central figure in a vast web of intrigue that stretches from an underground global conspiracy to a prophecy dating back over seven thousand years, that tells of his coming. Enemies and allies find him at every turn, but one thing they all learn very quickly is that you don't want to push Grant Borrows too far... Can destiny be undone? The players are ready. The game is in motion. And the pace is Relentless. In the allegorical tradition of Tolkien and Lewis comes a powerful new myth for a new generation.
- Publisher

Discover two very different sides of God! Peruse the pages of this book of insightful meditations and you'll encounter Christ's explosive power and his incredible tenderness. You will be forever changed as Manning calls you to "adopt the astonishing life of a committed disciple." Perceptive writing flavored with tough-love honesty.
- Publisher


Meet the Author
Brennan Manning
Brennan Manning has spent the past 40 years helping others experience the reality of God's love and grace. It's at the heart of everything he's written and done. A recovering alcoholic and former Franciscan priest, his spiritual journey has taken him down a variety of paths. He has taught seminarians, spoken to packed arenas, lived in a cave and labored with the poor in Spain, and ministered to shrimpers in Alabama. He currently resides in New Orleans, Louisiana.
Brennan is best known as the author of the contemporary classics The Ragamuffin Gospel; Abba's Child; Ruthless Trust, and The Importance of Being Foolish. Most recently he has produced Patched Together and The Furious Longing of God.