The Renegade Pastor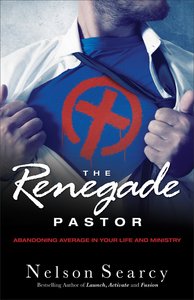 :Break out of the trap of average and pursue God's best for your ministry. The average church in America is declining by 9% every year, is behind on budget, and is unable to move forward with the kingdom plans God has in store. The average pastor is stressed out and struggling to maintain healthy relationships and life balance. But while the cycle of average is strong, there is a way to overcome its pull and step into a life of impact and excellence. Drawing from Nelson Searcy's decades of ministry experience, The Renegade Pastor is a relevant, step-by-step resource for church leaders who are ready to step up in surrender to the pursuit of God's best for his or her life and work.

Addresses issues of personal and professional growth including:

-Managing Stress
-Controlling Emotions
-Dealing with Criticism
-Setting Godly Goals
-Planning with Purpose
-Establishing Healthy Friendships
-Developing Strong Church Systems
-Personally Honoring the Sabbath
-Becoming a Better Spouse and Parent

- Publisher
You May Also Be Interested In
About "The Renegade Pastor"
:Break out of the trap of average and pursue God's best for your ministry. The average church in America is declining by 9% every year, is behind on budget, and is unable to move forward with the kingdom plans God has in store. The average pastor is stressed out and struggling to maintain healthy relationships and life balance. But while the cycle of average is strong, there is a way to overcome its pull and step into a life of impact and excellence. Drawing from Nelson Searcy's decades of ministry experience, The Renegade Pastor is a relevant, step-by-step resource for church leaders who are ready to step up in surrender to the pursuit of God's best for his or her life and work.

Addresses issues of personal and professional growth including:

-Managing Stress
-Controlling Emotions
-Dealing with Criticism
-Setting Godly Goals
-Planning with Purpose
-Establishing Healthy Friendships
-Developing Strong Church Systems
-Personally Honoring the Sabbath
-Becoming a Better Spouse and Parent
- Publisher


Meet the Author
Nelson Searcy
Nelson Searcy served as the director of The Purpose Driven Community at Saddleback Church before starting The Journey Church of the City in New York City in 2002. He and his 1200-member church appear routinely on lists such as The 50 Most Influential Churches and The 25 Most Innovative Leaders.
His newsletter for pastors and church leaders, Church Leader Insights, now reaches more than 40,000 subscribers and continues to grow by hundreds each month. Searcy lives in New York City and recently had published Ignite: How to Spark Immediate Growth in Your Church; The Generosity Ladder: Your Next Step to Financial Peace and Maximize: How to Develop Extravagant Givers in Your Church.