The Ride of Your Life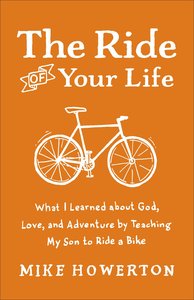 We can all remember the first time we learned to ride a bike. That terrible thrill when we first realized Dad had let go of the seat and we were on our own. That first crash and the skinned knees. The life of a Christian is a lot like that. We want to experience the freedom we're promised, so we take a risk, a leap of faith--and sometimes we fall. But just like Dad running alongside of us, God is always there, equipping us, encouraging us, and comforting us.

Through the powerful analogy of teaching his son to ride a bike, Mike Howerton lays out five essential life lessons that will help readers recapture a childlike faith and embrace a passionate, adventurous life full of possibilities and promise.

- Publisher
You May Also Be Interested In
About "The Ride of Your Life"
We can all remember the first time we learned to ride a bike. That terrible thrill when we first realized Dad had let go of the seat and we were on our own. That first crash and the skinned knees. The life of a Christian is a lot like that. We want to experience the freedom we're promised, so we take a risk, a leap of faith--and sometimes we fall. But just like Dad running alongside of us, God is always there, equipping us, encouraging us, and comforting us.

Through the powerful analogy of teaching his son to ride a bike, Mike Howerton lays out five essential life lessons that will help readers recapture a childlike faith and embrace a passionate, adventurous life full of possibilities and promise.
- Publisher


Meet the Author
Mike Howerton
Mike Howerton is lead pastor of Overlake Christian Church in Redmond, Washington, and served for six years as the college pastor at Saddleback Church. He is a graduate of Pepperdine University and received his master's degree from Fuller Theological Seminary. Mike lives in Washington with his wife, Jodie, and their three children.