The Right Call (Sophie Trace Trilogy Book #3) (#03 in Sophie Trace Trilogy Series)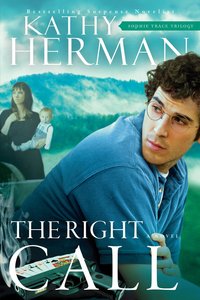 With information that could solve a series of murders but endangers the girl he loves, a college boy grapples with what to do--and whom to trust.

Ethan Langley is home for the summer, eager to renew his friendship with Vanessa Jessup and her infant son, Carter. And her parents, Police Chief Brill Jessup and her husband, Kurt, approve: Ethan is thoughtful, kind, hard-working, and ambitious.

Before Ethan is even settled, a series of random shootings leaves someone he loves dead. While police are scrambling for suspects, Ethan learns shocking details that could break the case--but it imperils the lives of those he's come to love. Going to the police with what he knows endangers Vanessa and Carter ... yet not telling them is just as dangerous. He's been dealt a risky hand in a game for which he doesn't know the rules. Will he make the right call?

- Publisher
You May Also Be Interested In
About "The Right Call (Sophie Trace Trilogy Book #3) (#03 in Sophie Trace Trilogy Series)"
With information that could solve a series of murders but endangers the girl he loves, a college boy grapples with what to do--and whom to trust.

Ethan Langley is home for the summer, eager to renew his friendship with Vanessa Jessup and her infant son, Carter. And her parents, Police Chief Brill Jessup and her husband, Kurt, approve: Ethan is thoughtful, kind, hard-working, and ambitious.

Before Ethan is even settled, a series of random shootings leaves someone he loves dead. While police are scrambling for suspects, Ethan learns shocking details that could break the case--but it imperils the lives of those he's come to love. Going to the police with what he knows endangers Vanessa and Carter ... yet not telling them is just as dangerous. He's been dealt a risky hand in a game for which he doesn't know the rules. Will he make the right call?
- Publisher


Meet the Author
Kathy Herman
Kathy Herman, bestselling author of The Baxter series, Poor Mrs. Rigsby, and the Seaport Suspense novels, is at home in the Christian book industry. She spent five years on staff at the Christian Booksellers Association and eleven years as a retailer specializing in children's products at Better Books Christian Center in Tyler, Texas . Kathy and her husband, Paul, have three grown children and five grandchildren. They enjoy world travel, deep sea fishing, and bird watching - sometimes incorporating all three into one big adventure!
Other Titles In The "Sophie Trace Trilogy" Series